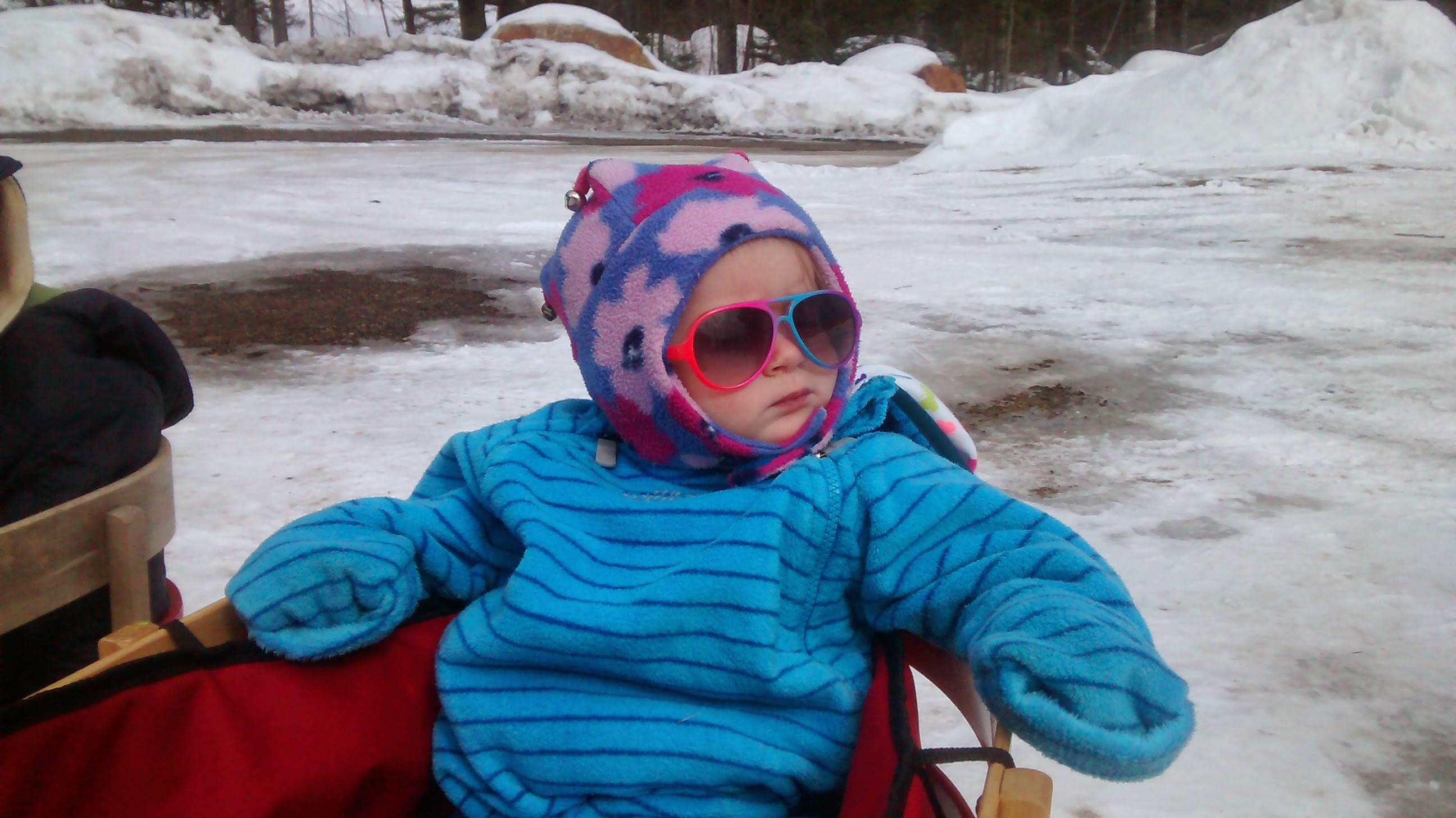 Winter is ripe for lessons in expedition behavior (EB) for everyone, especially kids. The season compresses EB's basic tenets of self-care, leadership, and positive attitudes in some of the harshest, least EB-friendly conditions.
It's easy to practice those tenets on bluebird days and more difficult on what I call velociraptor days: cold, windy, wet, and otherwise uncomfortable. I live in New Hampshire's White Mountains where there are more velociraptor days than bluebird ones.
Of all the hopes I have for my children, I most want them to be honest, thoughtful humans who can think and act independently and compassionately every day, bluebird and velociraptor alike, in all situations—frontcountry, backcountry, and everything in-between. Some days, I find this goal delusional, like when my 5-year-old daughter and almost-7-year-old son would rather split hairs about what constitutes a direct violation of the "no jumping on the furniture at least in the living room" rule than set the dinner table unasked.
There are moments, though, when they rise to the occasion, unexpected and wholly present, practicing self-care like NOLS instructors or seeing what they can do to aid the expedition, even if the expedition is dinner and they set the table. In these instances, I'm convinced that they've absorbed the concept of EB that my husband and I have attempted to instill in them since birth—contributing to the greater good of the expedition and the world in positive, meaningful ways.
I was delighted (and humored) by my children's blossoming understanding of EB on our 9-day camping trip this summer and pleasantly surprised by their growth this winter. What they've learned about EB over the past several winters—skiing, snowshoeing, catapulting themselves off homemade sled jumps, and otherwise tromping about in these snowy mountains—crystallized the concept.
Here are a few EB lessons that my kids have learned over the past few winters and how they practice it:
1. Self-care is critical in all seasons, and it's especially tricky in the winter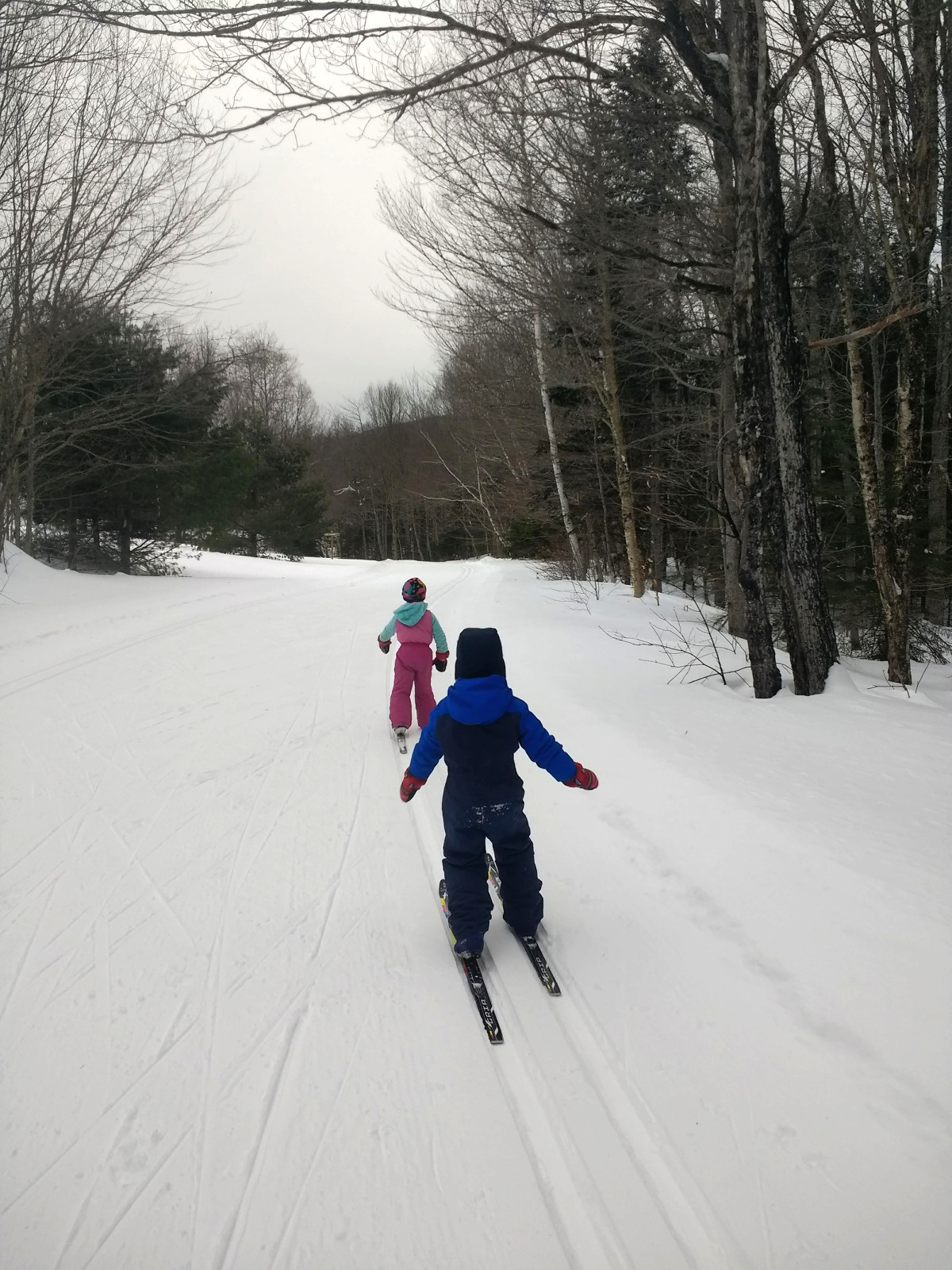 My kids' winter self-care repertoire is limited to their base layer, eating, and drinking. This is a solid first step to understanding the concept of self-care. After all, if you can identify when you're too hot, cold, hungry, or thirsty, you're more than halfway…to somewhere.
This winter, the kids participated in an after school Nordic league for early elementary school students twice a week. I sent them to school in their base layers and a cozy fleece to make the necessary quick, efficient transition from school to skiing.
On those mornings, my daughter requested her "fleece-y pants, polypro shirt, and 'gucci' pullover." 'Gucci' is a shortened version of our beloved nickname "Patagucci"for our diehard favorite hand-me-down, thrift shop, and Worn Wear Patagonia gear. With added snow gear, hats, mitts, and neck gaiters, they were good to go—and skied happily for several hours after school.
The point? They learned that stellar winter self-care starts with a great base layer.
They've also learned that they function best as baby seals do, with a healthy layer of winter fat. To this end, they munch on super-duper calorie-dense energy-rich snacks before we get going, like trail mix, homemade oatmeal cookies packed with goodies like walnuts, and other favorites that don't squish in a backpack or freeze easily.
As for water? They learned the hard way. On the morning following a family cross-country ski day, they awakened cranky, with chapped lips and headaches. Suffice it to say, drinking plenty of waterbefore, during, and after intense winter activities is no longer a problem and they do it without being nagged. They love the added hydration-friendly winter bonus of an apres-ski hot cocoa, too!
Next winter? Snow shelters. One step at a time, right?
2. Leading others transcends age—in all seasons, not just winter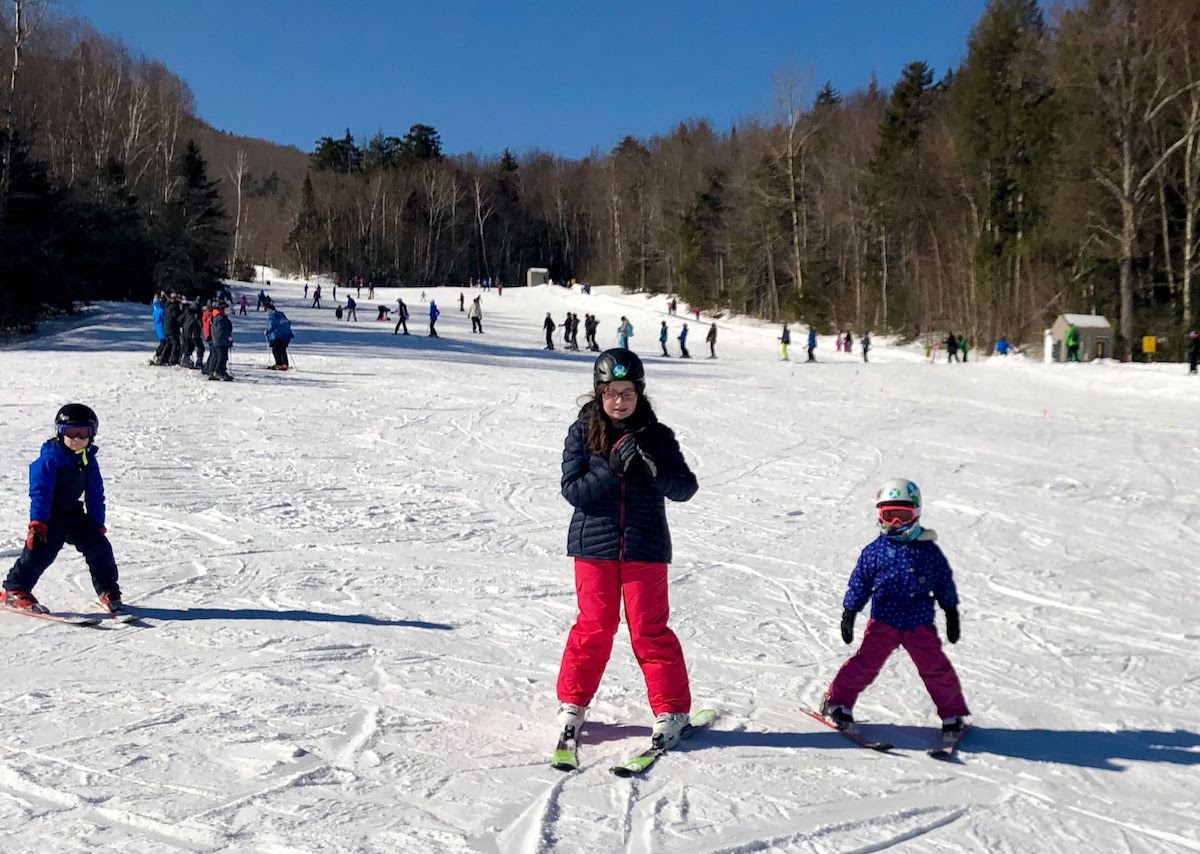 Leadership in any season is difficult. What's so special about winter? Well…it's cold. When you're not used it, it takes some getting used to. When you are used to it, you need to remember that not everyone is.
For the first time ever, my son attempted to embrace outdoor leadership skills in the winter with someone other than his little sister (whom he regularly convinces to leap off a small icy cliff near our front door).
When dear friends visited us recently for their first family ski-cation, they brought their two children, ages 10 and 12, who had never skied before. Before we started skiing, I explained to my kids that our friends would take lessons on the mountain in the morning, and that they might appreciate knowing someone else on the bunny slope in the afternoon. I also explained that if they wanted to ski with their new friends, they'd have to change their expectations for the day—they might not get to do their favorite runs.
When my son asked, "Why not?," I explained that they've been skiing since they were two and that my friends were just starting. "Your job," I said, "is to be a supportive friend, not a bossy one." He nodded, unsure.
My kids were all about it, eager to be "experts." In the afternoon, my son asked the 12-year-old if she wanted company. She said, "yes." My daughter joined them—promoted by her brother from her role as feisty minion to feistier deputy—and they all took care of each other in the ways that they could. They helped each other shuffle to the magic carpet, waiting at the top so they could go down together, and shouted "doing ok's?" across the slope.
While it feels more natural for older children to teach younger ones, this situation worked. I asked my friend's daughter about it later and she said she "didn't feel embarrassed" that my two littles followed her like a posse of polar bear cubs as she maneuvered down the bunny slope unharmed, happy, and comfortable. She said she had a lot of fun.
Her mother added, "It was a great example of trust-building." Later in the day, the 12-year old gave my kids a music lesson on her violin. They danced.
What makes it possible for a 6-year old to lead a 12-year old down a mountain on skis and a 12-year old to be open to following someone half her age? The knowledge that EB crosses generations, and that we have something to learn from everybody…But only if we're ready. See #3.
3. Sometimes, being a leader means you need to leave people alone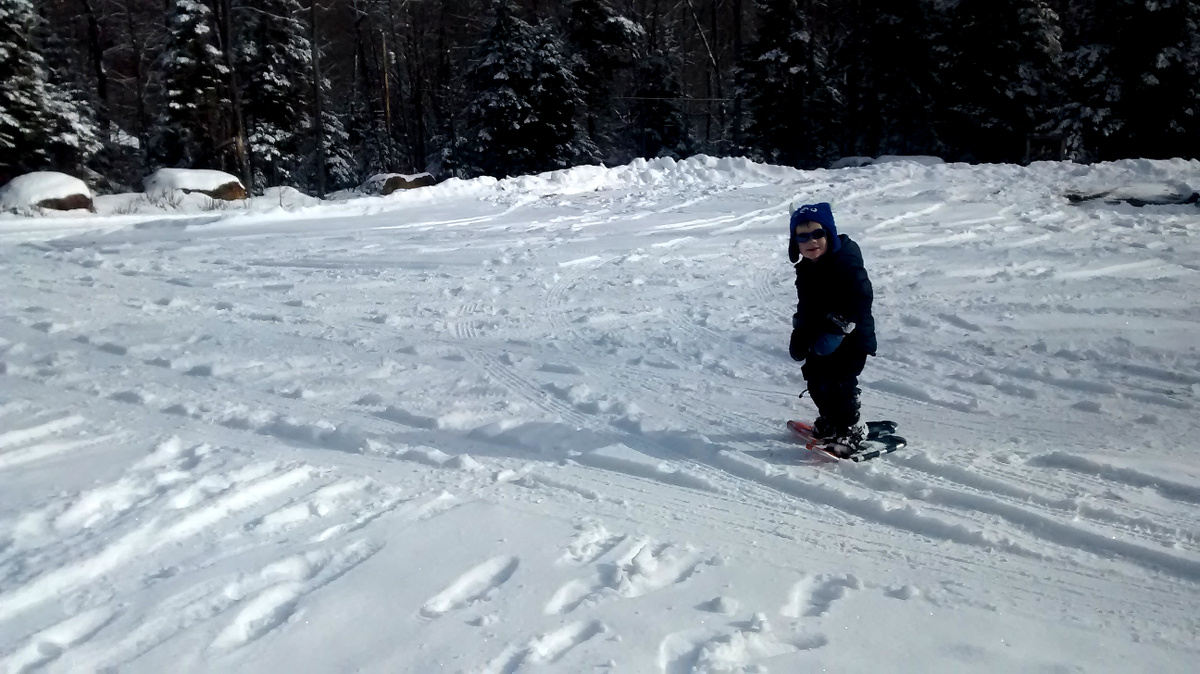 My son desperately wanted to ski with my friend's 10-year-old son, who felt frustrated by the morning's lesson, whose hands got cold, and who wanted to practice his new skills only with his dad. While my son was disappointed that he didn't get to ski with the 10-year-old, whom he admired for his Lego prowess, I explained that it might not work and that it wasn't personal.
After the trip, the 10-year-old explained to his mother, "I had just met these little kids, it didn't bother me that they were going down the hill differently, and I didn't feel left out." He was happy to figure it out with his dad—and he did, with great success.
My son's lesson? Just because you see yourself in a leadership role doesn't mean others will naturally follow unless they're ready. Sometimes, it's best to leave them alone until they are, and recognize that that might be never, or maybe—we hope—next time.
Instead of getting frustrated, my son let his new 10-year-old friend be, and let him work out his frustrations in a way that he felt comfortable—with his dad and with warmer mitts.
Later that afternoon, the boys played Battleship and my son took his cues from his new friend, a Lego and Battleship aficionado. They didn't discuss skiing. They had no reason to. Win-win.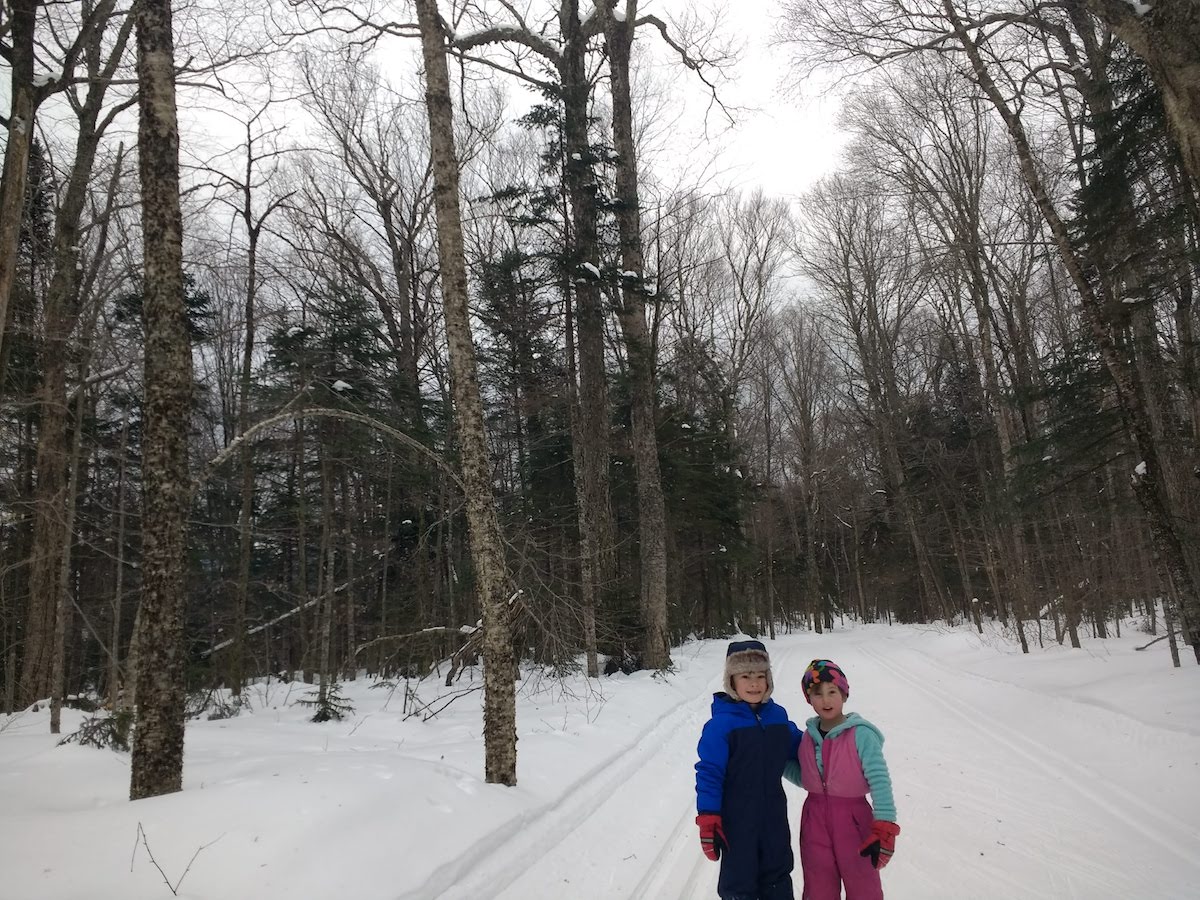 Winter skills are hard, backcountry and frontcountry alike. Among the biggest factors that complicate learning what you need and when you need it are weather conditions, comfort zones, and how to mesh with others' goals and needs.
How do you teach kids to be confident in their winter skills and practice their EB? The same way you teach anyone else. Demonstrate. Practice. Ask questions. Let them figure out when they need that extra layer and when they don't. Let them figure out when to push and when to lay off—themselves and others.
As a parent, it's your job to join your posse of polar bear cubs in that apres-activity hot cocoa. They've worked hard and so have you. Don't forget the whipped cream.
Written By
Alyssa Walker is a freelance writer and editor, parent, and educator. She's interested in intersections: education, equity, the environment, technology, and politics. She loves to read, write, drink coffee, and play with her kids. She lives in New Hampshire's White Mountains and you can follow her on Twitter @lysmank. (NOLS Alaska '05)