I grew up in a small village engulfed by jungle—Oxkutzcab, Yucatan in Mexico. I spent half of my life there. It allowed me to interact and learn alongside turkeys, cats, chickens, piglets and many other animals in the middle of the forest. Ever since, I have kept the outdoors in my life and now with cameras, a couple SD cards, and the support of sponsors, I get to tell the stories of my adventures through still photography and documentary film.
I had the opportunity to go on my first NOLS expedition in July of 2015 in Southeast Alaska thanks to FujiFilm photographer and sponsor Daniel Fox. Through him, I was connected with various outdoor brands such as Kokatat, SOG Knives, Mountain Khakis, Guayaki, Klean Kanteen and many more. They helped me get geared up for the NOLS sea kayaking expedition and for other adventures to come after my time with NOLS ended.
Before the expedition, I thought Alaska was a nice sunny place with grizzly bears running around. Sponsor Voltaic Systems provided me with a 17 watt solar panel to keep my two DSLR cameras charged while on the expedition, assuming we would have plenty of sun. It became worrisome when I saw the sky day after day stay completely grey. In reality, Southeast Alaska is a temperate rainforest, and the islands we ended up kayaking to were not inhabited by any grizzly bears; black bears instead. So my goals changed.
I learned to keep the solar panel running to soak in as much power as possible. I tried to photograph black bears in their natural habitat, but they had no interest in me or our group, so I scrapped that idea.
I intended to learn and develop alongside my fellow students and photograph the expedition to share our story. Fortunately, two of my instructors, Murilo Bellese and Marco A. Martinez, were photographers and understood my needs as a storyteller and explorer. They were masters at kayaking and were the best example of passion. Murillo was my assigned mentor while on the trip. He taught me the ways of an outdoor leader and kayaker who's had 15+ years of experience teaching in the backcountry. I soaked it all in, plus I got to teach them a little too—I showed them that they could photograph for 30 days without worrying about batteries through the magic of solar panels.
Because of the rain, I could really only use my cameras in camp. One day, out of nowhere we heard the spout of a humpback whale. Everyone ran towards the sound, even though this wasn't our first encounter with whales. I stayed behind to set up my cameras, then hid them in a waterproof bag and quickly followed. The minute we got out of the protection of the trees the wind blew gallons of rainwater at our faces. With the help of my peers, we made a shield of bodies to protect the camera from the rain. We were working together to take a picture of a creature that made us realize how beautiful the wilderness is. The whales would wake us up early in the mornings to let us know they were passing by.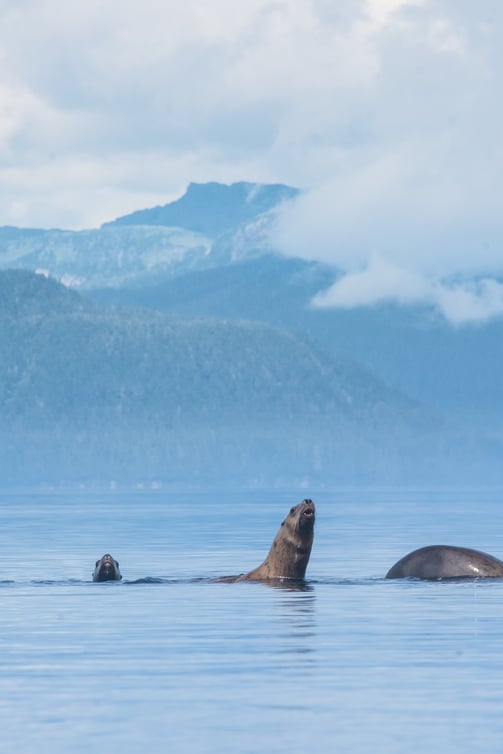 There were challenges on the trip besides the weather. I had to focus on the group's schedule, try to avoid being eaten alive by mosquitos (I failed miserably), and try not to injure myself in fear of having to quit the expedition in the middle of the Alaskan wilderness.
Now, I did question why I was there, since it got exhaustingly hard at some points and my past experiences on expeditions were not as tough. But every time I went off to explore with my protector (bear spray), I realized that I was not going to see never-ending mountains, families of salmon swimming upstream, or feel the stillness of the forest for a couple of years.
Halfway through the expedition I was telling scary stories at midnight in the tent. I finished, went outside, and saw something I will never forget: a sky filled with glowing, dancing lights. I grabbed my camera, made a makeshift rock tripod, and got shooting. In my first image I saw a green light hovering over the mountains. I thought it was a sign I had damaged my cameras. I took another and it was still there, so I moved around ideas in my head and then remembered hearing about the great Northern Lights.
I was ecstatic, dancing around, jumping, clapping—I screamed out to everyone who was still awake even though we had an early 5:00am wake-up the following day. They came out and saw through the camera what I was seeing. To the naked eye it looked like black fog. Our screams of excitement woke up our instructors, but as soon as we explained they both joined us.
In the backcountry, we always wondered what it would be like being back home. Now that I am back, out of the wilderness and into the urban lifestyle of San Francisco, I wish the expedition had never ended. The hardships, rewards, and learning experiences I had at NOLS are something I would not have imagined receiving when I was learning alongside my animals in the Yucatan when I was younger.
I'm no longer being eaten up by mosquitos, I'm no longer going into a forest to eat blueberries, I can no longer see the great landscapes of Alaska, but I made sure to bring them with me, one image at a time.
Explore all NOLS sea kayaking expeditions
Editor's note: Post updated 4/5/2018
Written By
Kedyn Sierra is an adventure photographer and documentary filmmaker. He has partnered with FujiFilm photographer Daniel Fox and other sponsors to bring stories of the wilderness to life. You can see more of his photos with NOLS and beyond by following him on Instagram @kedynsierra