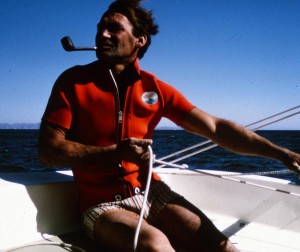 With heavy hearts, we bid farewell to Tap (Ernest) Tapley, one of the first NOLS instructors and certainly one of the most legendary. Tap passed away Monday, March 2 in New Mexico. He was 91 years old.
Tap met NOLS founder Paul Petzoldt while serving in the 10th Mountain Division of the U.S. Army, which Paul was helping to train. He later recruited Paul to instruct for the Outward Bound branch he founded in Colorado, and in turn joined Paul as an instructor when Paul founded NOLS.
"I haven't considered it work," he said of his role as one of the first NOLS instructors on NOLS' 40th anniversary. "NOLS meant to me that we could start training people to take others into the wilderness and enjoy it."
He did just that for nearly 30 years, leading and teaching largely by example and soft-spoken instruction.
"Tap was the one who had the greatest influence on me ... because of his humility and kindness just being himself and sharing his knowledge by example more than by words," wrote one of his early students, Leslie van Barselaar, upon hearing of his passing. "He was so comfortable in the woods or by the ocean or horseback. He never told you what to do, but you watched very carefully how he did things to get it right. Because you knew he knew he was watching over you like a benevolent uncle. Because you also wanted to be that comfortable in the wild. Because you were proud to be a part of this lineage, and wanted to live into it."
In addition to playing a key role in launching the NOLS legacy, Tap also helped make NOLS an international institution. After instructing in the Wind River Mountains, his favorite wilderness environment, for many years, Tap headed south. In 1971, he founded NOLS Mexico.
He remained a steady source of learning and leadership as NOLS continued to grow, having a profound impact on countless students and fellow instructors.
"Tap's legacy grows each time a new NOLS student first sees the Milky Way, tops out on a Wind River peak, hears a coyote call, or feels the tug of a Brookie on the line. Those experiences, those adventures are the essence of Tap's spirit and role as an educator," said NOLS Executive Director John Gans. "We thank him and wish him peace."
Services are pending, and details will be added to this post.