Expedition Denali: Inspiring Diversity in the Outdoors earned the Outdoor Inspiration Award for its work to inspire youth, particularly youth of color, to get outside, get active and become stewards of our wild places.
The Outdoor Inspiration Awards recognize individuals, groups and companies whose efforts are above and beyond in inspiring others to enjoy, participate in and support outdoor activities. Expedition Denali won the group award, in the company of individual award recipient Timmy O'Neill and company awardee Timbuk2.
Organized by NOLS, Expedition Denali is the first African American team to attempt to summit the tallest peak in North America—Denali. Though they had to turn back just 1,000 feet from the summit due to a lightning storm, the team made history and is inspiring a generation of youth to reach their own great heights in the outdoors.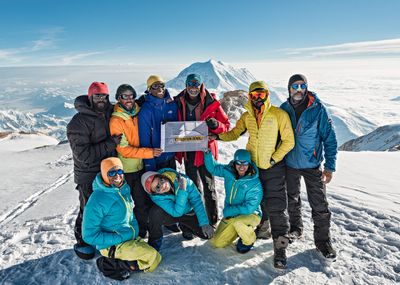 Expedition Denali on the mountain. Hudson Henry photo
"The class of 2014 Outdoor Inspiration Award winners truly have a love for exploring the outdoors and use their passion to impact and change people's lives," said Kenji Haroutunian, Emerald Expo Outdoor group vice president and OR show director.
Two members of Expedition Denali, Rosemary Saal and Scott Briscoe, were present to accept the award on behalf of the entire team.
"Last fall we shared our story with about 3,000 youth, and this spring we're on par to share that with an additional 6,000," said Briscoe upon accepting the award. "We're going to schools, community centers, churches, colleges, and talking about our climb and trying to inspire and get more people in the outdoors and diversify the outside."
This tour of the nation will inspire youth of color to connect with America's wild places and take on outdoor pursuits they never imagined possible by sharing the story of their historic attempt on North America's tallest peak. Their story will have an even broader reach upon the completion of a film about the expedition by Distill Productions, LLC.
Watch the latest teaser of the film below.
Written By
Casey worked as a writer and PR specialist for NOLS.