Over the last two weeks, NOLS staff members at headquarters in Lander, Wyo. have been spending their days in the role not of running a school, but of being students. Groups of about 15 gathered in the classroom in the Noble Hotel to develop cultural competency, gain new tools in creating inclusive environments, and delve into thought-provoking conversations about our world.
Led by NOLS Diversity and Inclusion Manager Aparna Rajagopal-Durbin and Human Resources and Inclusion Director Linda Lindsey, the workshops looked into why diversity and inclusion goals are important to NOLS, individuals, and the global community; ways to foster inclusion, and particular scenarios for students to practice responses.
"Diversity is what we are. Inclusion is what we do," Lindsey said during the training sessions. And diversity and inclusion training is how NOLS follows through.
Just one important aspect of the training was an examination of levels of diversity, depicted in the four circles of diversity visual. NOLS' diversity—the diversity of the world, for that matter—is divided (sometimes differently than this particular visual) into levels, some of which are choices and some of which are not. Certainly not all have visual cues, which is what is often the connotation with the word diversity.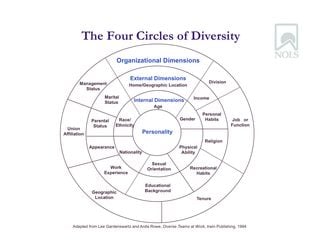 NOLS strives to not just respect but to actively welcome individuals of all groups. This initiative runs the breadth of the NOLS community, certainly on courses, for our instructors, and with in-town staff, but these are lessons we should also apply at home or in the grocery store. These are the kinds of lessons we set out to send all of our students home with.
Written By
Casey worked as a writer and PR specialist for NOLS.