NASA's Search for the New World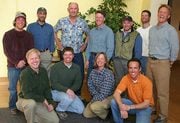 This morning, NOLS staff in Lander, Wyoming had the unique opportunity to hear from NASA astronauts returning from a winter expedition with NOLS Professional Training. Mike Foale, NASA's deputy associate administrator for exploration operations, was part of the group that learned to survive and thrive in the snow. Foale is no stranger to challenge. He holds the U.S. record for the most cumulative time in space: 374 days, 11 hours and 19 minutes!
Foale recounted the group's experience in Wyoming's Wind River Mountains, where they were practicing leadership and expedition skills in preparation for long missions in space. The group also included astronaut Don Pettit, who was living aboard the space station during the Columbia accident, and who survived when the Soyuz capsule he was returning to Earth in strayed hundreds of miles off course in Kazakhstan.
Pettit and Foale talked extensively about their experience living on the international space station, tight orbital quarters that are similar to a NOLS experience in more ways than one.
Foale presented a video of one of his six-month stints on the space station, showing the NOLS crowd a scene of him gearing up in a Russian space suit. "I'd take dacron any day," he said in reference to the heavy NOLS winter jackets and pants. He also showed scenes of what it's like living aboard the space station—eating your food in floating globs, dancing around the shuttle in slippers, hanging upside down to aid bone density, peering out the window at a tiny Earth spinning below.
Both Foale and Pettit described how the space station has become a base camp for space exploration. "When you climb a mountain, you have to have a base camp," said Foale. It's the same in space, where NASA is beginning plans to send crews to Mars. These explorations could last up to two years and will be unlike any exploration ever undertaken by humans.
In the end, we sat in rapt attention as the astronauts told tales of exploration that NOLS adventurers who've paddled the hardest rivers and climbed the highest mountains found inspiring. "I could leave this planet and never come back," Pettit told the audience. "We often feel like the people who left Europe for the New World. We're leaving our families and friends, but we're going someplace more moving than where we've already been."
Kerry Brophy, NOLS Publications Manager