I could hear giddy laughter, interspersed with exclamations like:
"Wow, oh wow!"
"Incredible!"
"Unbelievable!"
"Best ski run of my life!"
NOLS' first foray into backcountry skiing in Japan
With a grin from ear to ear, I watched my small touring group descend knee to thigh deep powder on a sparsely treed bowl just outside the boundaries of the Furano ski resort in Hokkaido, Japan. It was our first day skiing on the island, and JaPow was delivering the goods. As we gathered together to look down the next pitch of the slope, the clouds parted and the sky turned blue. I jokingly hollered up to the heavens: "Japan!! Turn it down a notch! We've got 7 more days, we can't have it all on day one!" On this first day of skiing on NOLS' first alumni ski trip in Japan, I already knew that we were incredibly lucky to experience this place.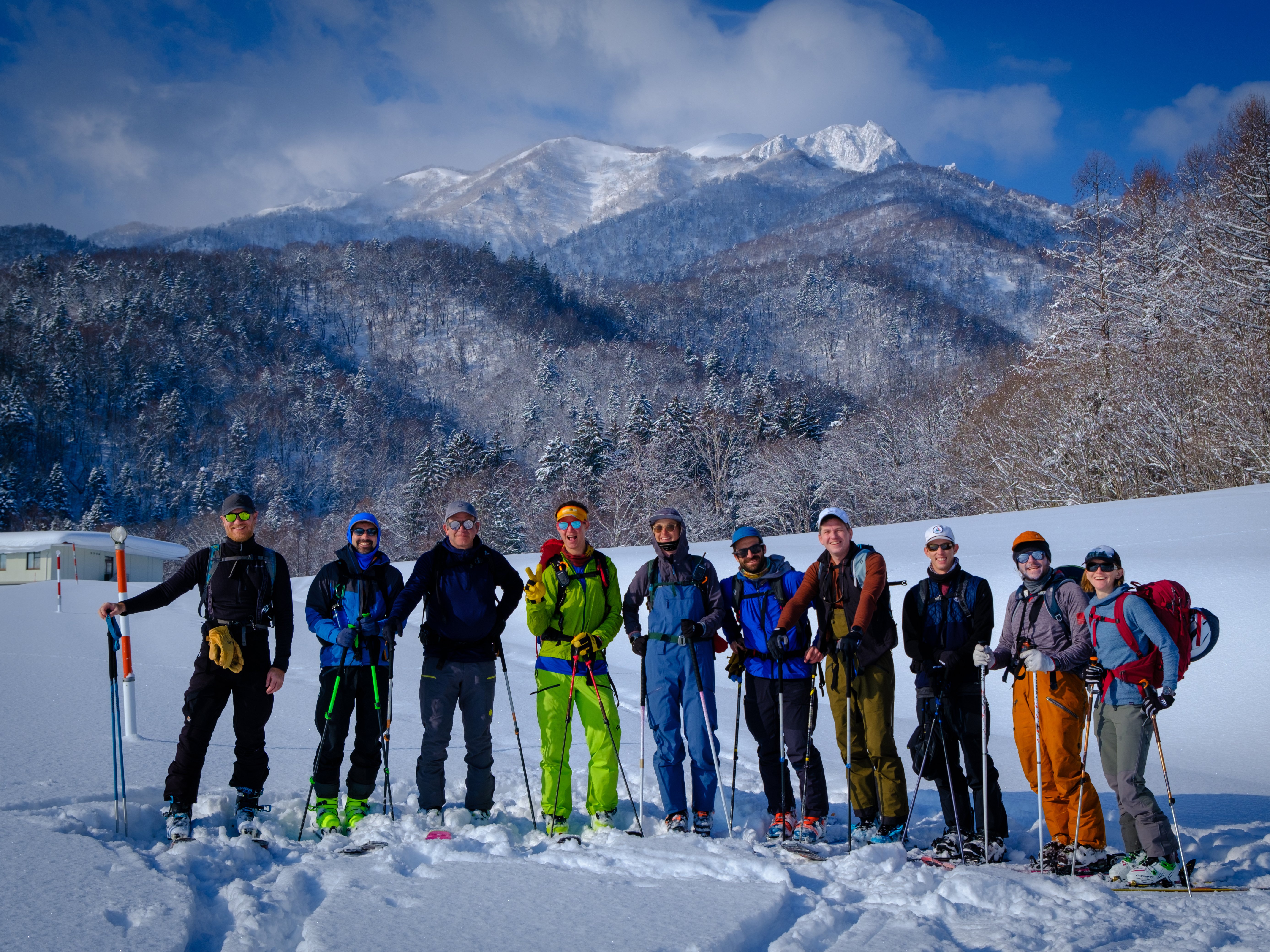 Photo by Jonathan Mowlavi
Taking a break from the powder, we all gathered at a restaurant at the base of the ski area for a hot lunch. We all quickly adapted to the cultural norms of ordering food from a vending machine, then taking your order ticket to the kitchen counter to finalize your order. We also learned how to eat soup with chopsticks, using a combination of pinching noodles, slurping (which is polite in Japanese culture), and drinking straight from your bowl. With toes warmed and bellies full, we returned to exploring the powder, even returning to the same sidecountry bowl we'd skied that morning, still finding fresh tracks hours later. Though skiing is a popular pastime in Japan, there is simply so much terrain that finding fresh tracks was never difficult for our group.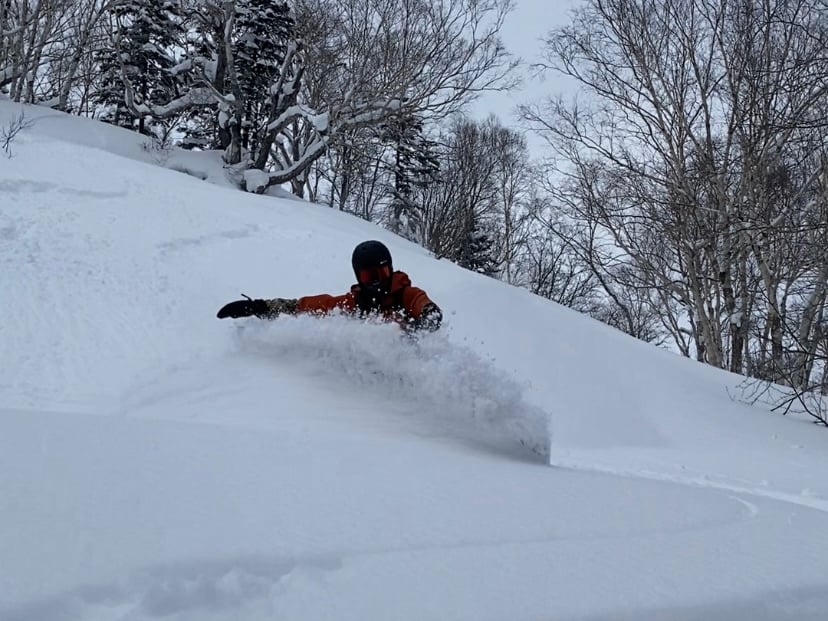 Photo by Evan Horn
As incredible as the powder skiing turned out to be--we received at least 10-15cm (4-6") of snow almost every day--what really set Japan apart is the culture around hot springs. Every hotel or hostel we stayed in had a private hot spring, called an onsen, both indoors and outdoors. These sacred waters are revered in Japanese culture, and there are common cultural rituals surrounding their use. Because the waters are public, but not chlorinated, all bathers must first thoroughly shower at a seated station, scrubbing the body clean. Then you are allowed to enter the hot pools and enjoy the cleansing waters. As they are natural hot springs, they all have slightly differing scents and levels of clarity. As such, after soaking, bathers take another seated shower before exiting the onsen. From this ritual, many participants mentioned that they felt cleaner than they ever had in their lives, with our typical shower/soak/shower routine, which some repeated in the afternoon. This created a joke amongst our community, that you might feel dirty if you hadn't had your typical 4 showers and 2 soaks before dinner.

A typical day (for the motivated early birds!) consisted of rising early to bathe and soak in an onsen while enjoying a quiet, contemplative start to the day. This would be followed by a lovely buffet style breakfast, then dividing and heading out ski touring with small groups seeking untouched powder. Small groups would return in the mid afternoon for another onsen or a nap before dinner out on the town. We wrapped up our days by enjoying an evening of one another's company, sometimes with stories and debriefs, and occasionally sampling cultural excursions such as ambling through an ice sculpture festival, lit with colorful lights.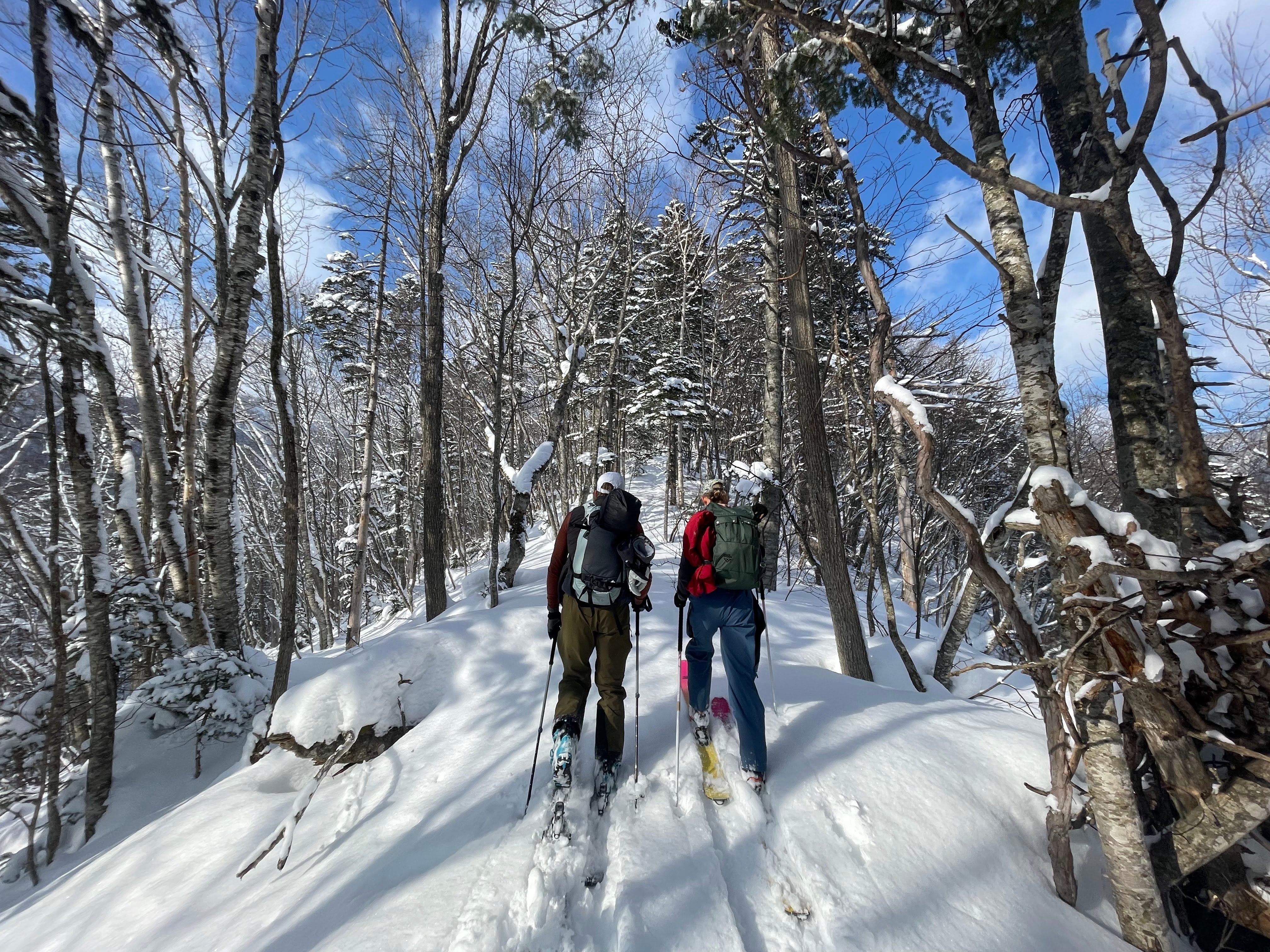 Photo by Sophie Hartshorn
Some of our lodging was in classic western style hotel rooms, and some of our lodging was more traditional tatami mat floored rooms where bedding is laid out on the floor, and then picked up each morning to make space for tables for eating or just hanging out. At the more traditional Japanese style lodging locations, our pillows were also typically filled with beans instead of fluffy stuffing. While it was not a typical pillow by most of our standards, it just turned into one of the flavors of Japanese culture that we all enjoyed sampling.

With daily ski tours, we often had 3 instructors leading 3 separate tours with different objectives. One of my more memorable tours took place on the low ridges of Furanodake (dake means mountain), with a theme of "Steep and Deep!" The regular snow falling from the sky, and the typically cloudy nature of skiing in Japan often produces powder skiing opportunities with relatively low avalanche hazard. We primarily needed to manage the new snow fall, which would sluff on steeper slopes, and if we ventured above tree limit, we occasionally found pockets of wind slab. On the Steep and Deep tour, my touring group found plenty of sluff as we took 3 unforgettable runs in knee to thigh deep, untracked snow. Terrain selection really is one of our best tools for avoiding avalanches, and so when conditions were less stable, we switched gears to the "Low is Lovely" tree skiing that Japan is famous for. We didn't need to be radical skiing steep lines, we found that we could be magical enjoying low angled, lightly treed, fresh powder.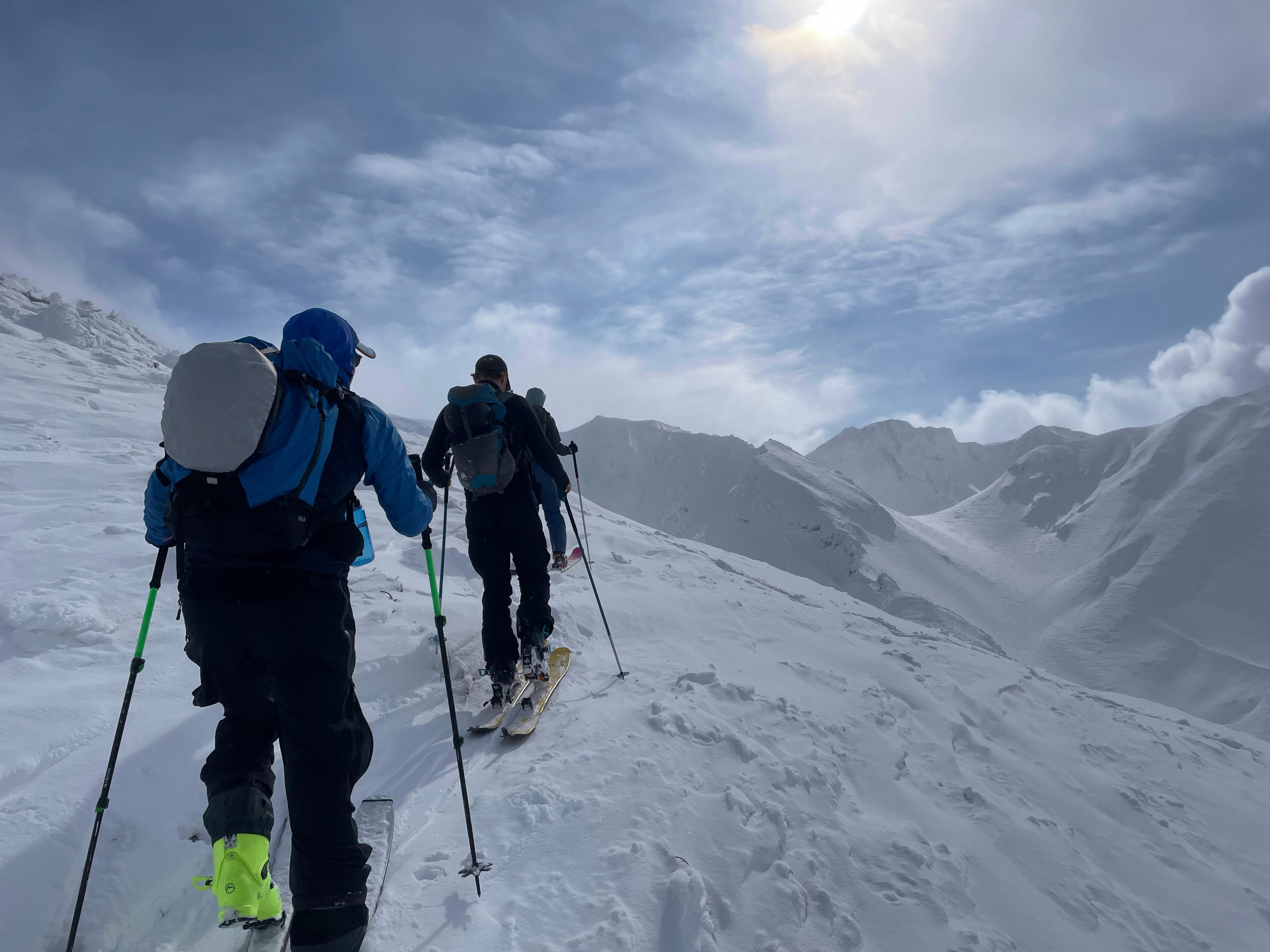 Photo by Sophie Hartshorn
When conditions gave us some visibility and the opportunity to tour higher became a possibility, we relished the challenge and the views of the higher peaks around Daisetsuzan National Park. One tour group managed to summit Kurodake and ski a beautiful line down a pristine slope. Another group toured up to the volcanic steam vents near the summit of Tokachidake. And while Kurodake typically has a ski area with one chair lift on its lower flanks, this year the lift was closed for maintenance. So while we used a tram car to access the ski area, it felt like we'd rented our own personal Japanese ski resort for the day. In 3 days of skiing at Kurodake, we only saw other ski tourers on one morning. And while the lines down from the tram were often steeper, those interested in a mellower tour could skin up the upper flanks of Kurodake and enjoy lovely gladed low angle trees.

To celebrate our experience we finished with a final evening sushi dinner and karaoke. Karaoke in Japan takes place in a private room with just your group. 9 days traveling together allowed our community to really feel comfortable being a bit goofy and truly belting out a series of amazing tunes. But alas, with legs sore from skinning and skiing deep snow, and sore throats from singing at the top of our lungs, our hearts were happy as we found a final night of rest on a bean bag pillow, dreaming of a way to make it happen all over again.

NOLS successfully ran our first 2 backcountry ski trips in Japan this past February. The dedication and work of Zeno Wicks, Evan Horn, Ashley Colgate, and Willy Oppenheim to making these adventures happen represents an overwhelming effort that 2 crews of skiers will never forget. Additionally, these trips could not have happened without 2 groups of outstanding NOLS Alumni.

Missed it? Don't worry, we are going back in 2024.
Explore all NOLS Skiing Courses!