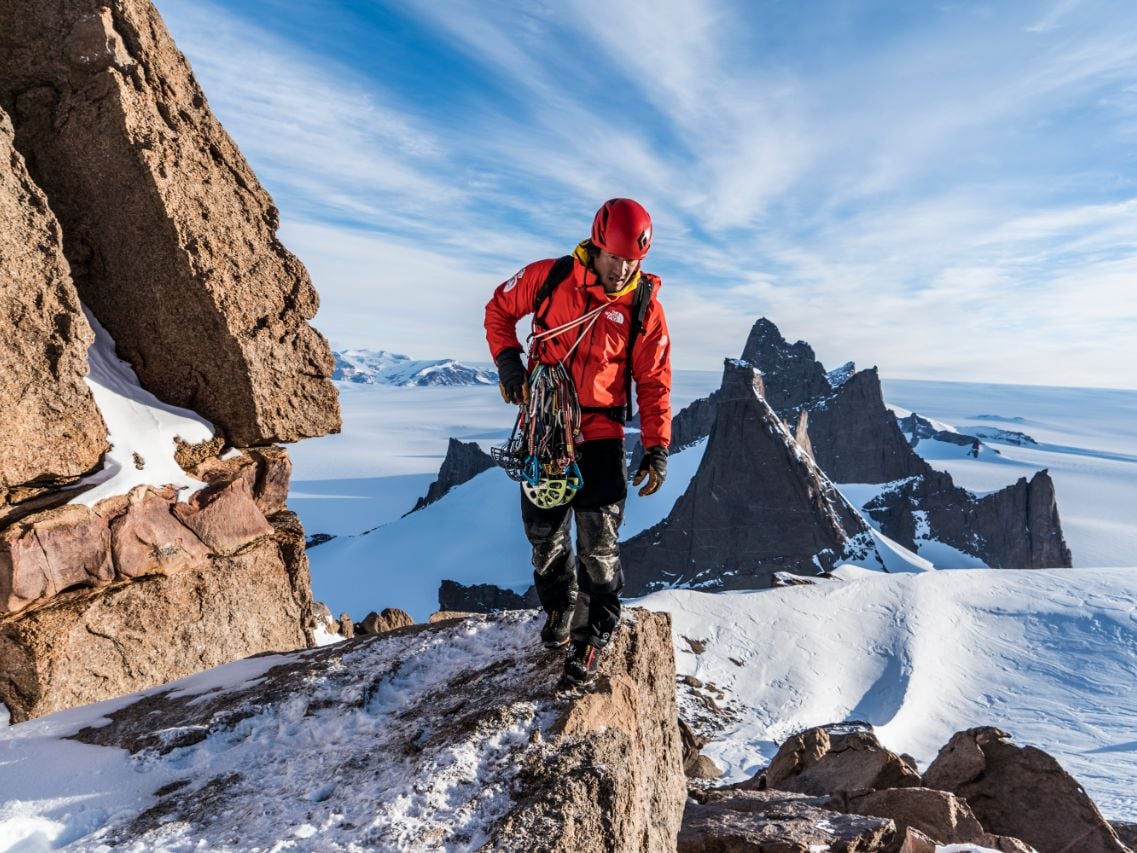 NOLS graduates are an inspiring bunch. Over the years, we've heard again and again that their NOLS courses impacted their trails to success.
Whether success means founding a nonprofit that empowers Latinx communities in the outdoors (José González), becoming the first person to ski the seven summits (Kit DesLauriers), or launching a company built around outdoor leadership training (Knight Campbell), NOLS courses can facilitate learning and growth along the way.
Check out these three videos to watch grads Jimmy Chin, José González, Knight Campbell, and Kit DesLauriers share their stories and NOLS experiences in their own words.
Jimmy Chin: Filmmaker, Storyteller, Explorer, NOLS Grad
Jimmy Chin is a photographer, filmmaker, climber, and mountaineer known for his ability to capture extraordinary imagery while climbing and skiing in extremely high-risk environments. Through exploring the outdoors, he found purpose and community as these pursuits led him to a unique and fulfilling career path.
A longtime member of The North Face Athlete Team, he has joined dozens of exploratory expeditions and completed first ascents around the globe, working with the best adventure athletes in the world. His years of experience in the adventure sports world enables him to bring an authentic perspective to his storytelling. Jimmy's documentary Free Solo won a BAFTA, and an Academy Award for Best Documentary Feature in 2019.
Jimmy joined NOLS as an instructor in 1998 and taught until 1999, and now serves as a member of the Board of Trustees. To this day, Jimmy considers his NOLS experience a gift: "You learn so many hard skills and soft skills that are yours to keep forever, many of them applicable throughout life."
José González: Educator, Environmentalist, Game-changer, NOLS Grad
José is the founder and director emeritus of Latino Outdoors, a nonprofit that connects families and youth with nature, engages and inspires Latinx leadership, and empowers communities to share stories of their cultural connections to the outdoors.
He's also an accomplished and passionate educator, with experience as a K-12 public school teacher, environmental education advisor, outdoor education instructor and coordinator, and university adjunct faculty. José joined the NOLS Board of Trustees in 2019.
Knight Campbell: Veteran, Educator, Entrepreneur, NOLS Grad
Knight served for ten years as an active-duty Navy helicopter pilot. He then dived into a Management PhD program, only to leave it behind in favor of teaching leadership in the outdoors. He concluded that, "It's important to me to be outside and have conversations that matter. I didn't find that in academia."
In between 80-hour weeks in the PhD program, Knight applied for a NOLS instructor course in Alaska. It was then that he realized what he really wanted to do. Today, Knight is the CEO and lead guide of Cairn Leadership Strategies, a company that offers leadership coaching in the outdoors.
Kit DesLauriers: Mountaineer, Advocate, NOLS Grad
Kit is an adventurer with a lot of firsts. She's the first person to ski the Seven Summits, the first woman to ski down Everest, and the first woman to win back-to-back Freeride World Tour championships. She completed the first female solo of the Grand Teton and has made several first ski descents of the highest peaks above the Arctic Circle in Alaska.
That's an impressive list of accomplishments, but there's more to her story. Kit is also a passionate advocate for the Alaskan wilderness she fell in love with on her NOLS course. Now lobbying for the protection of the Arctic National Wildlife Refuge, she says "things have come full circle" since that first NOLS adventure.
Written By
NOLS is a nonprofit global wilderness school that seeks to help you step forward boldly as a leader.