What does environmental sustainability have to do with social justice? How does a nonprofit like NOLS contribute to the economic base of small town like Lander? Who decides whether land is best used for ranching, hiking, or snowmobiling?
The other day, 40 students and teachers from the Journeys School visited NOLS's Wyss Wilderness Medicine Campus to tour the LEED Platinum-certified facilities and debate those very questions. Students at the Jackson, Wyoming, high school had spent the year studying the intersection of economic sustainability, environmentalism, and social equity. Their visit to Lander was one of three annual field trips, or "journeys," designed to marry academic study and real-world learning.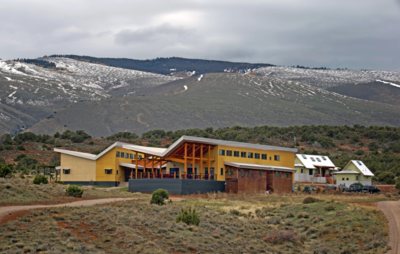 Wyss Campus facility manager Ron McCall and assistant manager Joe Wilson showed Journeys students the butterfly-shaped roof, designed to cache rainwater, and the array of photovoltaic panels that, on a sunny day, generate enough electricity to sell back onto the grid. One student asked whether NOLS employed wind turbines on the campus, and Ron explained that the gusty nature of the Red Canyon would blow the propellers to bits. In the basement, standing between tanks containing 55,000 gallons of captured water, students learned about the building's eight geothermal wells, each 250 feet deep, and composting toilets, which require hand-cranks to ensure the proper mix of oxygen, moisture, and heat. Every two years, Ron explained, he removes the fully decomposed poop—now harmless, but rich with organic matter—from the toilets and uses it to fertilize the campus's landscaping.
Over lunch, students discussed the differences between Jackson's tourism economy and Lander's historically agricultural and extractive one. They examined the forces that draw people and businesses to Wyoming—beautiful landscapes, no income taxes— and they debated the long-term sustainability of a resource economy, dependent on things you can "dig up, cut down, or grow." When the conversation turned to social equity, students wanted to know how NOLS practiced corporate responsibility and how it attracted students and instructors of color to its ranks.
Soon, it was time to head back into town. The group was due for a tour at the Museum of the American West. Maybe they'd have a chance to visit the Chamber of Commerce, said one teacher, herding her students back on the bus, or even drop in on the mayor.
—Kevin Charles Redmon