Here
at NOLS Rocky Mountain we often see many faces in a day. Courses come in and out, they ration food, issue and de-issue, brief and debrief, eat lunches and cleanup. It's often easy to pass by without noticing many of the people that work to keep all of the operations at the branch running smoothly. There are two people in particular that always have a smile on their face, take due pride in their work, and perform essential functions to the branch's operations. Freyja del Duca and Joel Harrington are two young adults with special needs. Freyja and Joel, both Lander natives, are exemplary staff members at NOLS Rocky Mountain and they work hard to serve the thousands of students that pass through this branch every year.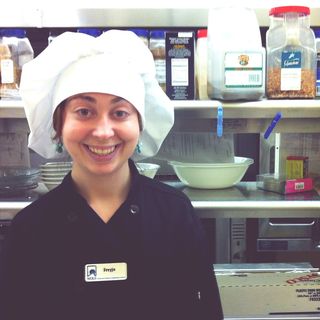 Freyja is 24 and has worked for NOLS for 5 years. You may have seen her in the Noble dining room with a white chef's hat on and a huge smile. She also works in the issue room at the branch where she inventories and replenishes first-aid kits and repair kits. But her favorite job is in the Noble kitchen. When she began at NOLS, she worked as a prep cook's aide. Over the past year, under the supervision of Stephanie Peterson, Freyja has been challenged to take on more and more tasks in the kitchen. She feels confident (and psyched!) to perform virtually all of the kitchen's mainline tasks. Her work allows students and staff, while in-town, to enjoy a variety of delicious
and nutritious meals. In her free time she enjoys photography and hiking in Sinks Canyon. She hopes to take a NOLS course one day!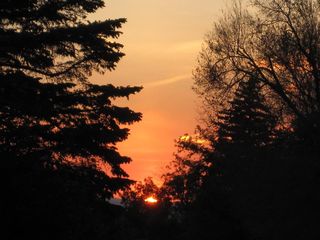 One of Freyja's photos of a Lander sunset
Joel is 26 and has worked for NOLS for 6 years. He loves telling people about the latest obscure film he's watched, he laughs easily, and works hard. As a map aide at the Rocky Mountain branch, he has expanded in his efficiency and uses tools that the branch has developed to help him sort hundreds upon hundreds of maps. His job involves making abstract judgments, a skill that can be transferred to a variety of tasks.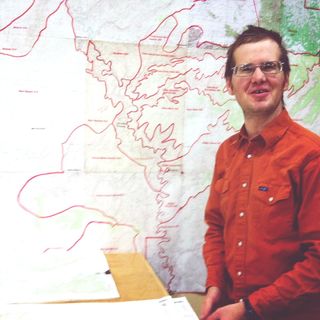 The Rocky Mountain branch is unique in utilizing the talents
and developing the skills of Lander's special needs community and we value the important services they provide for our branch. Glenda Brannan, the Rocky Mountain branch's Office Administrator states, "she is very proud of Joel and Freyja, they are productive team members of our branch where they perform much needed and valued tasks." NOLS strives to respect, challenge and welcome people of all groups, this initiative is reflected in our diverse staff and student body.