For the past week I have been saying the same phrase over and over again: "Hi, my name is Kate, I am one of the new RM interns." Over at the Rocky Mountain Branch, Wei-Ming, Spencer, and I started our summer internships last week, and are working on immersing ourselves in the NOLS Rocky Mountain world of the Gulch, Issue Room, and a whole variety of projects.
One of my projects for the summer is to keep the Instructor Team (iTeam) board at the RM up to date with pictures of all the instructor teams before they head into the field. Which includes me tracking down all the iTeams while they are briefing and preparing for their course.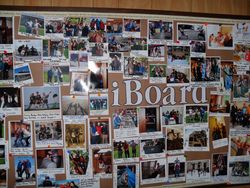 The other day, Instructor Lindsay Fell explained to me that these photos are not just simple photos, they are meant to capture the enthusiasm and excitement of an instructor team before they leave for the field, and thus they have to be amazing- yes people AMAZING. So far, they have been!
Recently the Wind River Wilderness 1 5/30 instructors set quite a standard, demonstrating how to stay well hydrated in the backcountry.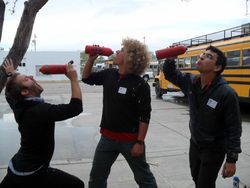 Wind River Wilderness (WRW) 1, 5/30
Instructors (L-R): Andy Basset, Daniel Rothman, and Edmilson Fonseca