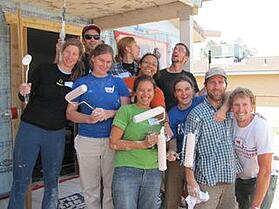 On Thursday April 14th branch staff at NOLS Southwest spent the day volunteering for Habitat for Humanity Tucson. As the morning sun rose over Reddington Pass ten eager staff piled into a van and drove to the build site in west Tucson where they met Mark the building site manager. He gave a little background info on the Tucson branch of Habitat, then handed out paint brushes and put the staff to work.
The Tucson branch of Habitat for Humanity has been in operation since 1980 and was the first affiliate west of the Mississippi. Habitat's mission is to incorporate the community through donations and volunteer work hours in order to build affordable housing for needy low-income families. Recently, Habitat has taken on the added challenge of making their homes eco-friendly. They do so by reducing waste and recycling materials at their build sites, and by building homes that incorporate rain and grey water collection, edible landscapes, energy star appliances, solar water heaters, high efficiency insulation and much more. A habitat home was one of the first structures in Tucson to receive LEED certification.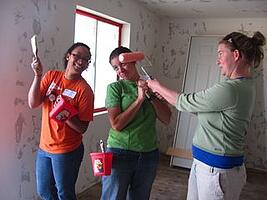 After five hours of rolling primer over every possible drywall surface, the house was transformed, now one volunteer day closer being occupied by a deserving family. The NOLS staff worked hard and had fun doing so. They turned the blotchy gray walls to brilliant white all while telling stories, singing, and chasing each other with wet paint brushes. Their clothes sufficiently covered in paint the staff thanked Mark, took one last look at the house that had been built by hundreds of caring people, and were off to their next adventure...