Where did you get your start in outdoor education?
I started by going on weekend outdoor trips with my middle school. By the time I was in high school, I was a trip leader for weekend backpacking trips for middle schoolers. It was a great opportunity to learn to lead when I was young! Then I led trips for the outing club at my college, and finally worked a little bit of wilderness therapy.
What is your favorite class to teach?
I love teaching any class that I can make into an activity! I like to teach by doing, and I am most engaged when I can find ways to involve my students in the class.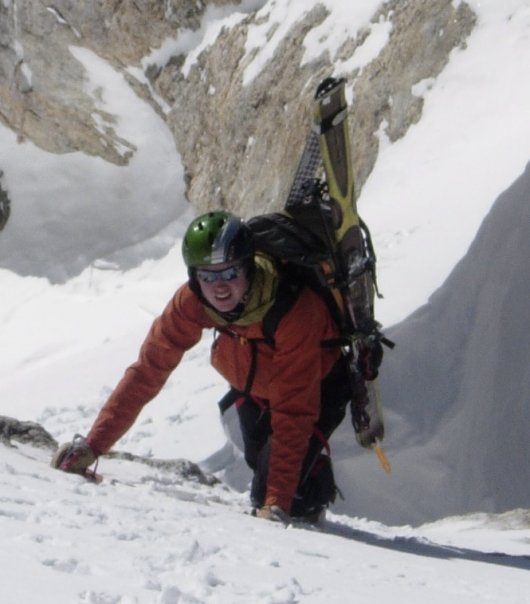 Are you an analyst/architect, driver, relationship master, or spontaneous motivator?
I used to be an immature driver, and now I'm most at ease as a spontaneous motivator. I've ended up in every corner on different courses, depending upon the needs of the instructor team and the student body.
What is your favorite course to teach?
I really enjoy leading
instructor courses
. The student body has high expectations and they ask engaging questions. It keeps me on my toes for an entire expedition, and I get to call my students my peers at the end!
Give me your best backcountry recipe.

Any time I'm using small amounts of food from multiple food bags to create a meal, I know I'm being creative. Fried pasta? C'mon! When I eat these rations 7 months a year, I need to create variety!
What is your favorite piece of outdoor gear?
My packraft.
What music/food do you think about when in the backcountry?
Salad Greens! Any fresh fruit or vegetable is a delicacy to be savored! In terms of music, I usually sing poppy 80's and 90's tunes (poorly) while I'm hiking! Not because I like that music, but because the internal jukebox etches it deeply in my brain, and hits replay when I'm getting exhausted.
What is your single greatest accomplishment related to the outdoors?
Last summer, I climbed and skied off the summit of Denali with 3 other NOLS instructors. It was a successful expedition, not just because we accomplished our objective, but also because we had fun doing it and have all remained friends. It also inspired all of us to keep searching and exploring, and we've spent the past year and a half looking for other fun adventures in the mountains to pursue!
William has worked in the past as the web content administrator, social media coordinator, and a data logistics assistant for NOLS.