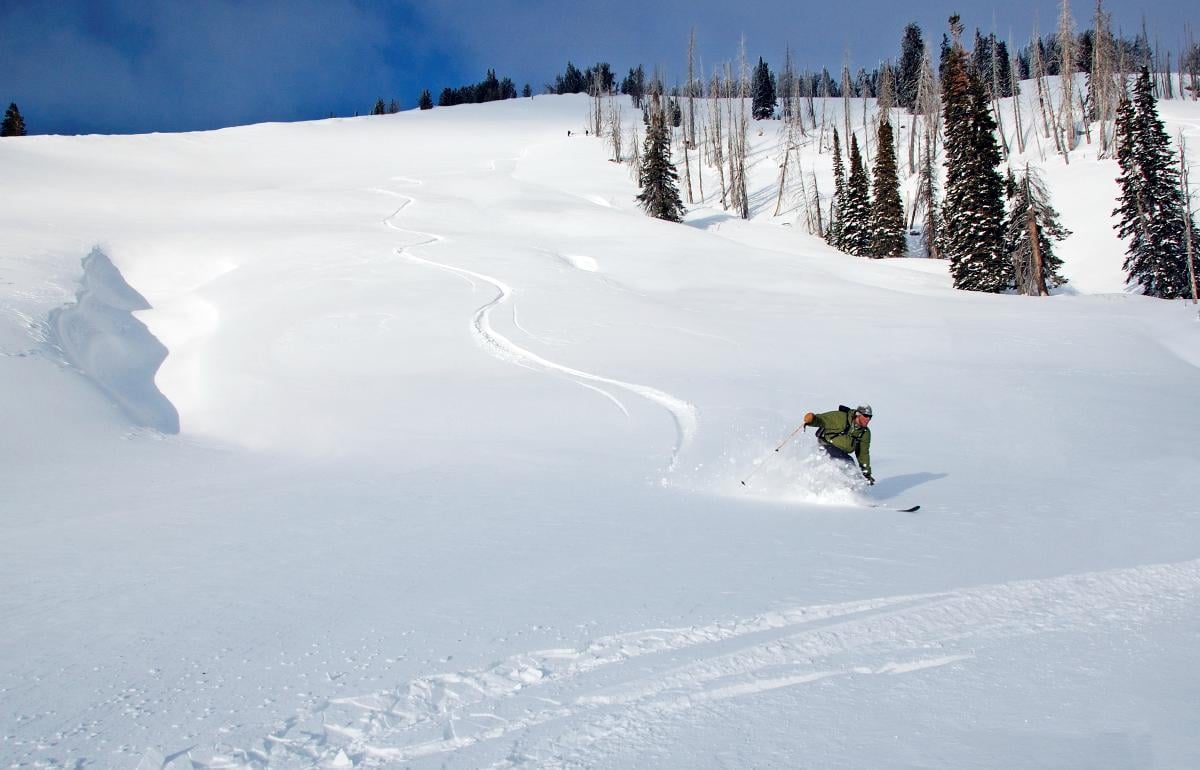 Photo by Brian Fabel.

Editor's Note: This case study is based on an actual incident that NOLS Wilderness First Responder and Wilderness First Aid graduates responded to.
The Setting
You're on an afternoon cross country ski excursion on a marked but ungroomed trail system in a nearby national forest with three companions. The temperature has been hovering in the low teens Fahrenheit. It's a beautiful day and the ski conditions are phenomenal, with blue sky, no wind, and plenty of fresh snow. You've been skiing for several hours and reach your planned turnaround point 3 miles from the trailhead.
"Check this guy out!" yells one of your companions.
A lone skier cuts turns down the steep hillside above the trail. Suddenly, he hits a bump that launches him in the air. His skis go up, his butt goes down, and he lands hard on his back. Amazingly, he bounces, then stands and glides for a few moments. He then sits down awkwardly and rolls onto his side.
"Hey, are you ok?" you call out.
There is no answer.
The skier's movements still seem awkward, so you ski to his side. The skier is gasping for air. One of your companions stabilizes his head and asks, "Can you breathe?" The skier gasps in response. "Relax," you plead—talking to yourself as much as to the patient—as you look into his airway, sweep for obvious injuries and blood, and check for chest injury. You're relieved to see all of these are negative.
Over the next couple of minutes the patient's breathing calms. He knows his name, where he is, the time and date, and what happened. Belatedly, you introduce yourselves and ask if you can help. He answers "I'm ok," tries to move, and cries out in pain, "My back hurts."
He agrees to an assessment and you begin by removing the backpack he's wearing, checking his back for injury, feeling down his spine, and then, for insulation from the snow, rolling him onto a foam pad that your group was carrying. Your NOLS Wilderness Medicine water bottle with the patient assessment system (PAS) triangle lying on the snow catches your eye. A quick drink allows you to look surreptitiously at the triangle and organize yourself for the assessment.
SOAP REPORT
Subjective
The patient is a 30-year-old who we observed fall hard onto his back while skiing. He stood under his own power, skied a short distance, and then collapsed.
Objective
Patient was found on his right side gasping for air. This resolved after a few moments and was attributed to his "wind knocked out." At present he has no shortness of breath and no pain when breathing. He has pain across his lower back with tenderness on several lumbar vertebrae. No other injuries were found. He did not lose responsiveness and denies any rib tenderness. At present, he has good circulation, sensation, and motion (CSMs) in all 4 extremities, but did report a tingling sensation running down his legs for a few minutes after the fall. His feet and hands are warm.
Vital Signs
| | | |
| --- | --- | --- |
| Time | 3:00pm | 3:20pm |
| Level of Responsiveness (LOR) | A&Ox4 | A&Ox4, |
| Heart Rate (HR) | 100, strong and regular | 100, strong and regular |
| Respiratory Rate (RR) | gasping, unable to count | 12, regular, easy |
| Skin Color, Temperature, Moisture (SCTM) | pale, warm, dry | pale, warm, dry |
| Blood Pressure (BP) | radial pulse present | radial pulse present |
| Pupils | PERRL (equal, round, responsive to light) | PERRL |
| Temperature (T°) | Skin is warm | Skin is warm |
History
| | |
| --- | --- |
| Symptoms: | None stated |
| Allergies: | Pollen in summer |
| Medications: | Ibuprofen (400mg this morning), no regular medications |
| Pertinent Hx: | None stated |
| Last in/out: | Patient has had 2 liters of water today, and has been snacking all day |
| Events: | Patient fell while skiing |
STOP READING!
What is your assessment and plan? Take a few minutes to figure out your own assessment and make a plan. Don't cheat—no reading on without answering this first!

Photo by Lena Conlan
Assessment
Plan
Patient has pain on his spine so he isn't a candidate for a focused spine assessment.
Protect the spine.
Protect the patient from the cold.
Continue to monitor.
Confirm coordinates and location with GPS and topo map, then send two skiers from your group back down the trail to a ridge. There, they should have cell phone service and can call for assistance.
Anticipated problems
Hypothermia and frostbite. Your group has minimal insulating gear and no sleeping bag.
Shock from an internal injury.
The Tale Continues...
The patient wants to stand up and ski, but you're worried about his spine, which is causing him worsening pain. You and the remaining rescuer decide you will protect the patient's spine and keep him as warm as possible until a commercial litter can be brought in.
You inventory equipment and notice that you don't have the convenient sleeping bags and plastic sheets you used for hypothermia wraps on your WFR course. Together, you maintain spine stabilization while dressing the patient with the extra layers that are available: his down jacket and a pair of hard shell pants. You also loosen his boots, change his socks to a dry pair, and make sure his feet are warm. A spare scarf is used to insulate his neck and serves as a c-collar, while your packs protect the patient's head from movement.
The sun is low on the horizon and the group is now in the shade—it's becoming cold. You're worried about your ability to stay warm. You and the other rescuer put on more layers. You build a fire, more for emotional comfort than real heat, and use pine boughs and packs to try to insulate the patient from the snow. You curl up close to the patient, using your body heat to keep him warm.
The patient's lower back pain persists and worsens, but his CSMs are still normal. A second look at his back reveals a 3-inch bruise low on the lumbar area of his spine. His heart rate remains higher than normal, which is worrisome because this can be a sign of shock. His skin remains pale, warm and dry, he remains A+Ox4, and he has a strong radial pulse. The patient urinates once, facilitated by log rolling him onto his side and having him pee yellow urine onto the snow. The absence of obvious blood in the urine is heartening because it suggests there is no kidney injury. Everyone shivers occasionally as the sun sets.
Notes from NOLS on Cold Weather Incidents
We pack our packs in the warmth of our homes where it is hard to imagine the reality of being outside at 4:00 a.m. on a cold winter's night. In this incident, the group of rescuers had enough insulation to stay warm and get by, while also doing a fine job assessing the patient, protecting his spine, and organizing a plan to receive assistance—but they will be in for a long night if Search and Rescue doesn't arrive soon.
It's important to anticipate the worst case scenario, then plan ahead and prepare with the gear for prolonged rescues in whatever environment you'll be traveling in, should the need arise.
End of the Tale
After an hour, which feels like an eternity, your two companions return. They were able to make contact with local SAR, who are responding with snowmobiles and sleds. But it may be another hour before rescue arrives. The two returning skiers switch out with you, lying with the patient to warm him with body heat, and you welcome the chance to move and get warm. You build the fire to an impressive size. A metal water bottle is used to melt snow, and you give the patient a warm drink.
After half an hour, you hear the first whines of the approaching snowmobiles, and after another half hour they reach your group. These rescuers are prepared and have sleeping bags, a litter, numerous hot packs, and several thermoses of hot drinks. They compliment your bivouac, fire, and patient report and appreciate that your group can help them package and load the patient onto a sled. An EMT on the SAR team provides continued care as they head back toward to the trailhead. Feeling exhausted, you gather your gear and begin the weary ski back to the trailhead.
Keep your skills fresh: Recertify with NOLS.
Editor's Note: The patient in the real-life incident on which this case study is based had several spine fractures, but no spinal cord injury.
Written By
As a NOLS Instructor since 1973 and a WEMT, volunteer EMT on ambulance and search and rescue squads since the 70s, Tod Schimelpfenig has extensive experience with wilderness risk management. He has used this valuable experience to conduct safety reviews as well as serve as the NOLS Risk Management Director for eight years, the NOLS Rocky Mountain Director for six years, and three years on the board of directors of the Wilderness Medical Society, where he received the WMS Warren Bowman Award for lifetime contribution to the field of wilderness medicine. Tod is the founder of the Wilderness Risk Manager's Committee, has spoken at numerous conferences on pre-hospital and wilderness medicine, including the Australian National Conference on Risk Management in Outdoor Recreation, and has taught wilderness medicine around the world. He has written numerous articles on educational program, risk management and wilderness medicine topics, and currently reviews articles for the Journal of Wilderness and Environmental Medicine. Additionally, he is the author of NOLS Wilderness Medicine and co-author of Risk Management for Outdoor Leaders, as well as multiple articles regarding wilderness medicine. Tod is currently the Curriculum Director of NOLS Wilderness Medicine.