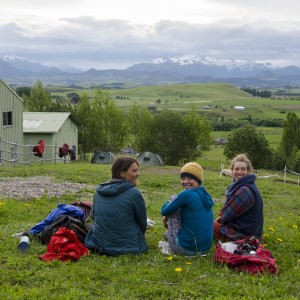 Our Patagonian Year courses PY-1-10/18/14 and PY-2-10/18/14 have recently finished their Wilderness First Responder classes on our campo. Plenty of time to talk to the students and ask them about their adventures!
While sitting down with Sophia, Haley and Meghan, we got to talking about all of their highlights and most favorite memories. But also about 'the other side' of their stories, which told me about new challenges they encountered and how it shaped them in their expedition behavior.
Sophia "Being out in the wilderness pushes us. It pushes us so hard and we are so challenged! Like, waking up at 4 am to cook for your group on a cold, snowy day. You want to be the kind of person who can just wake up really early and make the most awesome pancakes! Realizing that you do not really enjoy that is hard.. The disappointments and hardships you face, but also the successes, are so much stronger in the wilderness. Because they are all tangible. For example, whether we have that warm breakfast on an early cold morning, or whether we make it to the top.. But we have the opportunity to change and develop through those moments. So we push ourselves. You push yourself to be good, helpful and a great team member."
Haley "The reason why I get up in the morning, why I maintain a positive attitude when it is pouring rain, I am freezing cold and my rain gear has allowed all of the Patagonia rain to come in - is because of the people I am with. Because that is the essence of the trip, you have to work together, rely on and care about one another. And you want to! So you get up in the morning to make pancakes, because you want to show your family that you care about them and that you are there going through the same hardships are they are. And you want to push yourself for that."
Meghan "Even on hard days though, I would still think of it as the best day ever. It was not like that all the time, but some days when we were hiking.. We would stop, look around and be in the most beautiful place of our life. And everyone was in awe of what we are seeing and experiencing. So even with the moments of hardship there are times of realization.. This is why I am here. This is exactly what I wanted it to be."
It was obvious to me that these girls had just experienced an incredibly valuable and rich life lesson, and are very excited about all the adventures that still lay ahead of them!
Sophia, Haley and Meghan relaxing on the campo
Posted by Inge • NOLS Patagonia intern