This year marks the inaugural NOLS Exploration Film Tour, a series of free events hosted by NOLS that feature outstanding short films created by or about NOLS grads and instructors. The tour has been a hit thus far. After four events—Fairbanks, Anchorage, Bellingham, and Olympia—we are still having fun and learning a lot.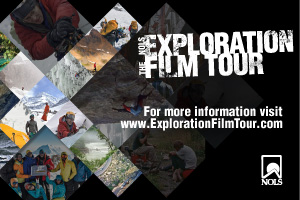 The Exploration Film Tour aimed to be something different. The main goal was to encourage increased participation in outdoor activities by making them more accessible. Secondly, we wanted to broaden recognition and a better understanding of the NOLS name and mission. All showings were free, making room for the curious as well as those already connected to the world of outdoor adventure. We maintained a high standard for films included in this tour and managed to gather nine that inspired, challenged stereotypical cultural norms about who the outdoor enthusiast is, and encouraged critical thought about the outdoors.
All the films are being well received at each location. After each show, there are many thanks from attendees and requests to return next year. Highlights for the audiences have included Craig Muderlak's film "Maiden Light," as well as "Golden Ears" and "An American Ascent," a film about NOLS Expedition Denali. Viewers have raved about watching women climb hard, educational and environmental themes, and the focus on real people rather than sponsored, professional athletes.
We are looking forward to bringing the tour to Birmingham, Atlanta, Greensboro, and Cookeville. Learn more and get your free ticket at explorationfilmtour.com
Casey worked as a writer and PR specialist for NOLS.