On August 12th and 13th NOLS teamed up with Lander Valley High School to provide a taste of outdoor recreation to the freshmen orientation. This is the second year that NOLS has helped out with the freshmen orientation and NOLS hopes to make it an annual event for years to come.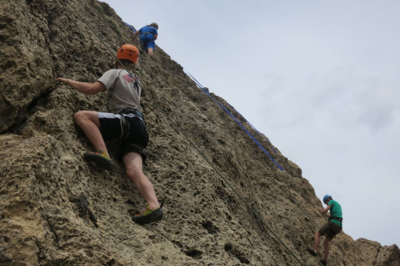 Lander Valley High School is located at the foothills of the Wind River Mountains in the small, tight knit, and active community of Lander, Wyoming, NOLS' original home and headquarters. Kids spend their time cruising around on bikes, playing video games, joining high school sports teams, and goofing off like kids should. Many families take their kids out into the Winds for family trips and some parents take their kids rock climbing or backcountry skiing. These kids are so lucky to have so many unique opportunities for recreation, and many don't realize how special of a place they live in.
This past week, NOLS ran a special course for students at the local high school who are going into their senior year. They took students who agreed to be "senior mentors" out to the Winds where they got to spend a week backpacking with instructors Thea Sittler and Jonathan Brooks.
The course almost summited Wind River Peak but got to witness some extreme weather instead, including an impressive hail storm! They got to experience greeting a day with a pre-breakfast sunrise hike and they got to see some alpine wildlife. They learned how to cook in the backcountry and learned how to work as a well-oiled machine. They were allowed to make mistakes and help each other out and, like on any NOLS course, they learned how much fun simply hanging out around a whisper lite stove without life's usual distractions can be. All the while, these students got the added bonus of being able to say they were hanging out in their home mountain range.
When the senior mentors got back to Lander, it became their turn to share the importance of being outside in your backyard. Along with a fleet of NOLS instructors, the senior mentors got to take any incoming freshmen who were interested up to Sinks Canyon for a few hours of rock climbing as a part of their freshmen orientation. Instructors taught some basic safety rules and explained the rope systems, while the senior mentors became instant leaders and took the reins to coach the freshman through tying the figure eight, belaying, and climbing technique. Watching students climb at Sinks, it quickly became apparent why climbing is such a great addition to a freshman orientation. The sport has so many assets which teach so many different skills and ideas.
For example, there is a learning curve to the rope systems, which challenges people before they even leave the ground.
"This friction device pulls the rope that way and then you lock the carabineer and spin it that way so that it doesn't cross load, and then the load bearing strand is pulled downwards; do multiple wraps and make sure the prussik will self tend then double check for redundancy before weighting the system…"
As a climber myself, it took years to get used to translating sentences like these. Rock climbing requires focus and an open mind to learn how all of the systems work. While the systems taught to the freshmen at Sinks Canyon were relatively simple compared to the one above, remembering that most of them had never heard of gri-gris before really gave me an appreciation for how quickly students can wrap their minds around new ideas. They learned their knots quickly and got the belaying motions down almost instantly.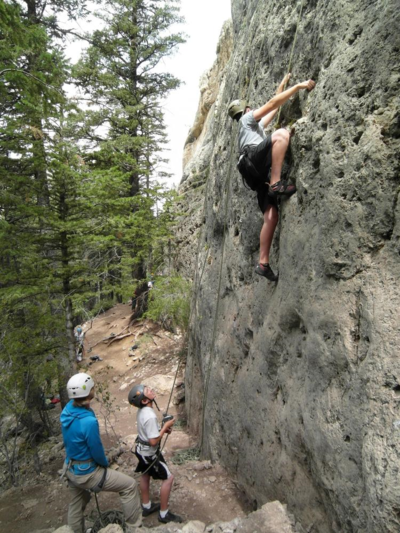 While some students were willing to blindly (sometimes literally, with a blindfold on!!) throw their weight onto the rope, others were more skeptical and hesitant to trust the rope systems and their belayer. They double checked each other's' systems while a NOLS instructor watched, used commands to communicate that they are ready to climb, and then left the ground once they know they fully trusted the situation.
Another important lesson learned from climbing is how to be resourceful. Students were equipped with everything necessary to get up the wall, along with a quick demonstration and explanation of climbing technique. Once a student is on the wall, they have to figure out how to use their resources (shoes, limbs, rock etc.) mostly on their own. In high school, students bring their own strengths to the table, which are unique to their past experiences and their interests. With each new activity they try, each homework assignment, each challenging moment, and each decision they make, they have to figure out how to use their resources to problem solve their way through.
Lastly, and potentially the best part of climbing, is that it can be awkward as heck! This is especially true among a group of newer climbers. Instructors watched students slowly work their way up walls, flail, fall, etc. Students learned that it is awkward to jam a foot in a crack, stand on it, and then realize that it must be taken out in the reverse order. They also learned that, despite feeling confident with your feet on a small little foot hold, its possible to have your toe slip off unexpectedly at any time!
From finding jelly beans perched on climbing holds, to blindfolding each other, to dumping bottles of water on each other to beat the heat, the students got a solid introduction to what rock climbing at your home crag is really like and the staff found it super satisfying to introduce students to their local recreation opportunities.
At the end of the day it was inspiring to listen to instructors equate lessons learned from climbing to life skills needed to make it through high school. It was neat to see how easy it is to bridge the gap between academic education and adventure education. From learning technical rope skills to developing trust and a good mindset, NOLS was thrilled to provide a great climbing orientation for these incoming Lander Valley High School freshmen and to incorporate some appropriate outdoor education to the start of their new academic journey.
Good luck to this group of students and may the send-train continue!
Written by Kaybe Loughran, NOLS Rocky Mountain Intern