Thoughts From the Field: Rediscovering My Calling
By Scott Taylor, 2013 Spring Semester in Australia
Before my NOLS course, I had taken a break from the university of Vermont because my priorities had become unhinged. I saw NOLS as a way to get my feet wet in an untraditional educational arena as well as embark on the coolest adventure I have ever done.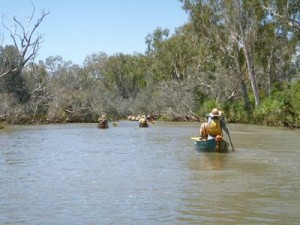 On the plane from Boston to Western Australia, the contrasting emotions of apprehension and excitement pulsed through me. upon our arrival at NOLS Australia, my coursemates, instructors, and I divvied up 75 days worth of food and medical rations for 16 college-aged students from the U.S., Canada, and the Netherlands.
In the frontcountry, civilization and infrastructure allow us to live a convenient but hectic existence. In the backcountry, wilderness tested our physical ability, emotions, and decision-making abilities. Each day, two students were scheduled
to be Leader of the Day, which entailed
safely scouting and navigating rapids,
keeping the convoy of canoes in a
tight formation, managing breaks, and
selecting campsites. During the river
section of the semester, we also each
researched and taught two short classes.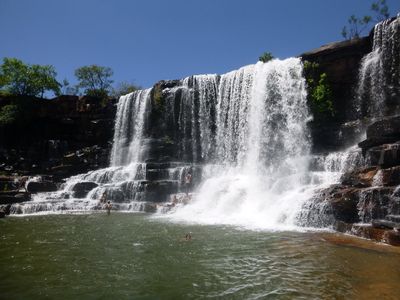 The emphasis on the hiking
section was on map reading and route-
planning. As we progressed as a group
and individually, the instructors' role
in decision making became less prevalent, and they eventually stopped traveling with us during the day. Each afternoon, we rejoined them in time for class. We were also required to teach another class, write two essays, and keep a species list. As our navigation and risk management skills grew, we earned the privilege of spending the last week traveling in the absence of the instructors entirely.
The next week we spent with Aboriginals of the Bardi tribe. We learned about their cultural structure, built spears and fished for dinner, and took part in storytelling. I am truly grateful for the time they spent with us.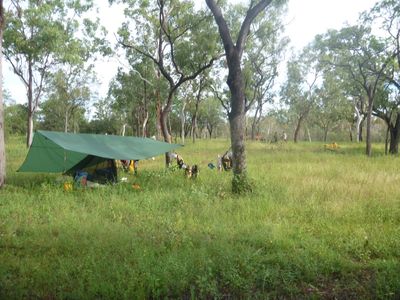 I learned a tremendous amount about myself, and I feel like for the first time in my life I am on the right track to further my education and pursue and explore my passion. NOLS reinforced my longstanding interest in the outdoors, and I immediately started building on that. I am now a natural resource management major and ecological restoration minor at Colorado State University. I attribute a large part of my current situation and progress in a field I am passionate about to my time in Australia with NOLS. I cannot praise the program enough.
Casey worked as a writer and PR specialist for NOLS.