Dear NOLS,
Thank you.
Thank you for creating an atmosphere where we would find ourselves creating an annual tradition of sending staff to compete in such an exciting, intimidating, and demanding event as the Cowboy Tough Adventure Race.
Thank you for encouraging us to pursue our curiosity and interest in adventure racing, particularly when it passes right through our back yard: the Wind River Mountains of Wyoming.
Thank you for educating us in leadership, tolerance for adversity and uncertainty, navigation, nutrition, and pack packing, all of which made our experience last week that much more "comfortable."
Thank you for connecting us with preferred retailers like Deuter and Brooks so that our backs, feet, legs, and faces would be well-cared for out there—in addition to supplying us with assorted mandatory gear and epic piles of food. We carried countless bars and trail snacks 400 miles across Wyoming in our Deuter Trans Alpine backpacks, which proved surprisingly comfortable on a bike. We nursed our tired legs with Brooks compression socks as we slept each short night. We kept the sun off our faces and the burs out of our socks with the Brooks hats and Cascadia trail shoes and schlepped our way from South Pass City to Casper in an awe-inspiring, if indirect, route.
Thank you for being the kind of organization where it is perfectly reasonable for managers and interns alike to drive an hour to the starting line to cheer (which is pretty cool for the competitors and the fans alike). Thank you for setting up another cheering squad on Main Street on Day 2 of the race, just a block from where we could have been working instead of pedaling by and giving high fives en route to throwing tomahawks.
Finally thanks for supporting the race and our fellow racers by sending the highly educated and skilled medical team from the Wilderness Medicine Institute to follow all our 40 teams for four days, repair blisters on surely nasty feet, clean road rash, and more.
Obviously, thanks for taking, and subsequently sharing, this photo: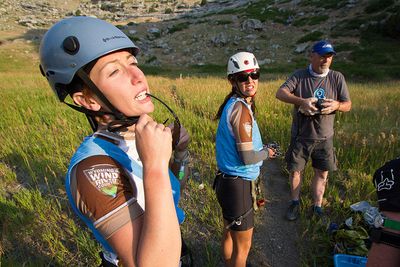 Brad Christensen photo
It's an honor and a pleasure to work for NOLS. Thanks for the adventures, the community, and the support.
Sincerely,
PR Specialist and Writer Casey Adams and Marketing Representative Marina Fleming, of the Wind River Country Team
Casey worked as a writer and PR specialist for NOLS.