The Monday morning walk to work was a little different for NOLS Headquarters employees this week, as they were greeted by a 1970 Crown bus at the building entrance.
Three men campaigning for Wyoming Democrat Charlie Hardy for U.S. Senate made their way to 284 Lincoln St. in Lander this morning. Hardy is a Wind River Wilderness '75 graduate, and Bruce Wilkinson, owner of this campaign bus, is a Wilderness First Responder.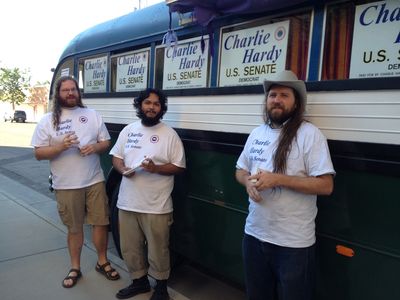 Nick, Felix, and Bruce greeted NOLS staff as they arrived at work this morning. Jeanne O'Brien photo
Wilkinson spoke of Hardy's connection to nature and desire to create a better future drawing him to NOLS. Wilkinson, bus driver Nick Brasheer, and fellow campaigner Felix Agulto share Hardy's outdoor interests as well as his political views and made plans to hike around Sinks Canyon this afternoon before hitting the road for Wright, Wyoming.
Casey worked as a writer and PR specialist for NOLS.