By Jason BreMiller, Pacific Northwest Outdoor Educators Course '03
A shortened version of this piece was published in the Summer, 2014, issue of The Leader, in mailboxes now! This is the third and final of three parts in this series.
Missed the beginning of this piece? Click these links to read Part One or Part Two of this series.
After a particularly long and arduous cross-mesa slog on the hottest day of the course, a slog during which morale hovered at a course low, we rolled into camp where the kids dropped their packs and slumped in an exhausted heap. Kai, Andy, and I departed to scout the surrounding vista, but when we returned we discovered a lively scene of unexpected and raucous laughter. In his solo journal, Luis describes this moment:
Mr. Bre, Andy, and Kai looked over at us like the desert had driven us crazy! At one point, Janet even had to take out her inhaler because she was laughing so hard. I don't even remember what we were laughing about, but we recognized the situation we were in. We were all alone in the middle of nowhere, no technology, and the only thing we had was each other.
In the canyons, these students became alive to each other in ways often impeded by the drive of frontcountry competition. The canyons help untangle the morass of grades and academic prizes and college admission and return it to a simpler foundation of human connection.
WONDER
The night Tom photographed the Milky Way, he'd recruited a cohort to accompany him on a midnight foray where they spread their bags out on a slickrock bench and triple-set their alarms, prying themselves up and into the frigid canyon air at 3am to erect the tripod for an extended-lapse shot. They'd never seen the Milky Way before and in the morning when they woke, they draped their arms around each other, laughing with cantaloupe smiles and carrying spring lamb-bounce in their steps.
Rachel, an 11th grader, wrote a sequence of poems on the trip that gets at this capacity for wonder. Here is an excerpt:
We are either homesick or home
No way out but further in
There are petroglyphs etched
Onto your ribcage and spine
The wild thing put them there
For wild-you to remember
So when you breathe, you know the
Wind is breathing back to you
So when you falter, you know the
Canyon can be your rigid spine.
Veins crackle and sputter like firewood
And awaken a new way of treading ground
And illuminate the thought upon waking:
"This is the day to shape the next upon."
The Canyons are words on a page
A language the river swept away
Silver scaled and glinting
Jumping like fish
They remain on the backs of our eyelids
A bluish blob stained onto nothingness
That we see, now
Every time we blink.
Tom and his buddies reveling at their first sight of the Milky Way reminded me that the capacity for wonder is alive and well, Rachel's words that sometimes emblem is all we have.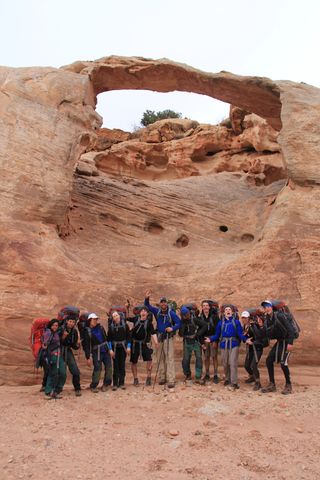 TRANSCENDENCE
As students begin to sense their own agency, as they fit this agency within the framework of their emerging community, as they attenuate themselves to their own capacity for wonder, something shifts inside them, a realization that can be transcendent. 11th grader Sage explores this emerging sense of self in his solo journal:
I gather some dead sage and fix my lighter underneath. I pull my fingers across the flint wheel, the only unnatural thing around me, and watch it engulf my namesake. I hold the plant upside-down, allowing the flames to climb. It vanishes in my hand with a blinding fireball and a choking cloud of smoke. It warms my bare chest, reminding me of the imminent chill, and I am reborn, a new person. The sun rests atop a red stone mesa, visibly shrinking its crescent on the horizon. The sun fades into tonight and tomorrow, and I fade into someone new, someone else.
These kids are not the same who left less than two weeks ago. It is clear that have been changed irrevocably.
*****
When I think about Tom's words I'm so bored by all of this and how I might be able to help my students shift worlds, it occurs to me that I want them to see that it's not about this world and that at all—that it's not all over when they leave the canyons as they fear may be the case. I hope they see how they can enact what they learned in the desert right here on campus every day just as they witnessed Harkness in the desert. It's the synergy between worlds that I most hope my kids will recognize and that there are ways to preserve the magic.
For me, what helps is recognizing that sometimes memory and metaphor suffice. Tom's starcloud suggests that sometimes we see better in the dark, and our maps tell us that when we're lost, there are ways to become found if we only take the time to orient ourselves by recognizable features. "Using our smarts" is just good practice, and sometimes laughter heals a day's ills[j4] . In this way, our backcountry days can echo for us now in this eddy of time even more loudly than in the silence that echoed for us then.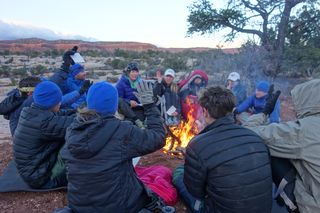 Our final evening. We huddle in a circle around a modest pit fire, feeding the flames with small lengths of juniper. The mood is electric and I think I know why. We'll be gone tomorrow, our expansive views contracted to the boxy confines of the van, our pellucid soulscapes clouded by the abrasion of our iPhones: email, phone calls, espn.com, Facebook. They're ready to go back but don't yet want to relinquish their hold on this place. For comfort, I turn to "Cactus Ed" Abbey, that desert bard who faced his own departure from the desert. I read across the firelight:
I, too, must leave the canyon country, if only for a season, and rejoin for the winter that miscegenated mesalliance of human and rodent called the rat race (Rattus urbanus)...Balance. That's the secret. Moderate extremism. The best of both worlds. Unlike Thoreau who insisted on one world at a time, I am attempting to make the best of two.
Our final morning. With the sun at our backs, we look west and see the glint of the truck windshield on a bench two miles away. We break a quick camp and funnel away downcanyon, bending to scoop chunks of petrified wood for the last time before returning them to their sandy beds. We walk in silence for the final mile, unconsciously slowing our pace, extending our time. When we turn a bend in the canyon where it sweeps up close against the road cut, we're confronted by an aperture in the rock, a concrete eye tunneling the breadth of road. After nine days in the field, the abruptness of its emergence is jarring. The kids hesitate at the threshold, their packs bumping together like jammed logs. We hold the silence for a few seconds longer, looking back over our shoulders into the depths of the canyon where flood-scarred cottonwoods twist in the sun and our tracks stretch backward in the sand. And there it is: bootslap on pavement, the easy roll of industrial traction. When we emerge on the other side 100 feet later and greet our truck, I'm smiling with the knowledge that we'll be knocking dust from our boots for years to come.
Kim is a Wind River Wilderness and Wilderness First Responder graduate who works as the NOLS Writer and PR Specialist. She enjoys vegetarian cooking, warm yoga, and drinking lots of coffee!