By Jason BreMiller, Pacific Northwest Outdoor Educators Course '03
A shortened version of this piece was published in the Summer, 2014, issue of The Leader, in mailboxes now! This is the second of three parts in this series.
Click here to read Part One, the beginning of the series.
AGENCY
Browsing pictures before our gathering, I stumble across a short GoPro clip shot by Luis, a 10th grader from Chicago. He shoots from an elevated alcove, looking downward through a narrow shaft of canyon slot framed by a prominent chockstone. Below, Claire, another 10th grader, can be heard approaching from around a bend. Her telltale blue beanie wobbles into view as she assumes a perch high enough on the wall for her to peek through the opening and assess her next passage. She grunts with exertion, using opposing pressure to hold her place while she gropes blindly above for purchase. It's a tricky move to be sure: to progress from her stance, she'll have to mantle onto the pinched bite of stone where the walls thin and duck under the chockstone. Doable, but in need of some rumination. She hesitates, unsure, looking back down to where Andy waits out of sight, then back up into Luis' lens.
Claire's voice is barely audible, but if you can make out her, "Uh...what do I do?"
And from the recesses, unseen, Andy's words return hollow as if the canyon itself were speaking: "Use your smarts!"
In the canyons, the kids come to see themselves differently—as doers rather than thinkers only, as people capable of agency. They learn to trust themselves and the skills they've developed to do real work. "Where are we?" they ask over and over and over again during the opening days of the course, to which their instructors patiently reply, "take out your maps." By the end of the trip, they understand how to plot a course and follow it, that meals don't cook themselves, and that if you haven't planned far enough ahead to pack your raincoat accessibly, then your teammates might sigh loudly and look at you with deep reproach while you explode your pack to find it.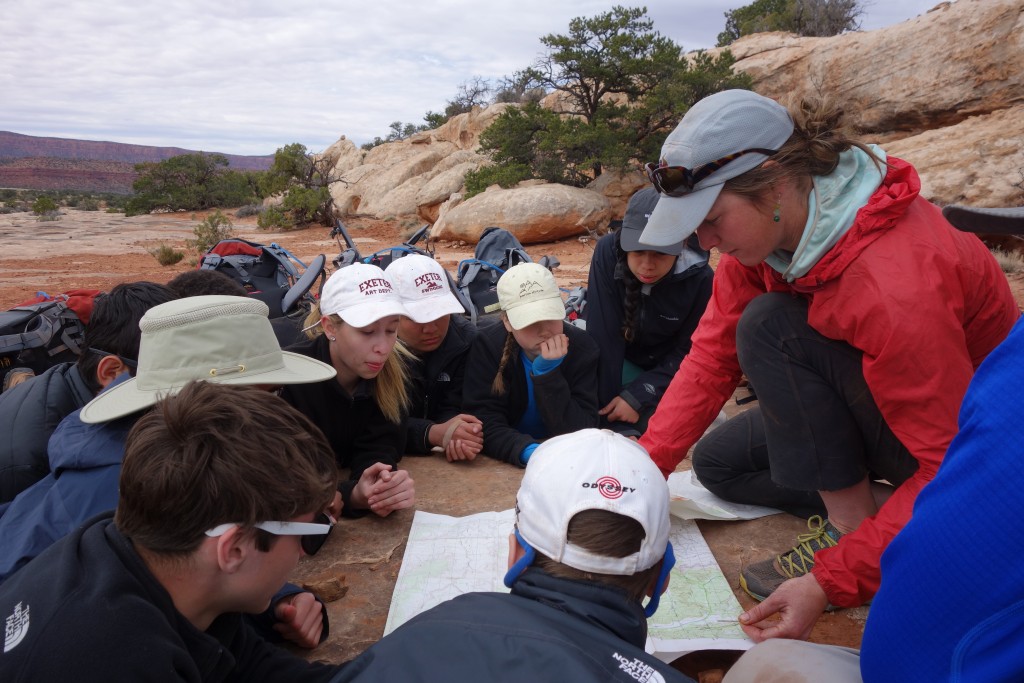 PURPOSE
In the canyons, students' horizons are confined to the daily living tasks of eating and drinking and travelling. Near the end of the trip, each student elected to participate in an overnight solo, during which they were encouraged to reflect on and write about their experiences thus far. Andrew, an 11th grader, identified this narrowing of purpose as one of the most formative aspects of his trip:
I was immersed in a primitive lifestyle and through it I regained sight of the world and the people around me—the sight that I lost at Exeter while thinking and thinking, toiling away about projects and college and my general future, because those things have always been the ends for which I work. In the canyons, the goal was to find water, to explore, to see things, and to strive only toward immediate goals. In the canyons for those nine days, I have never felt more conscious of what was around me. Without the distractions of civilization, I noticed the little things: the soft hum of air in my ears, the color of red mesa, the rock lines that flow like water, the texture of the sand.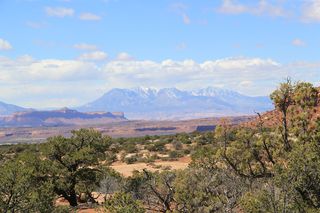 In the canyons, the kids' focus is distilled to an immediate and tangible purpose, to something more concrete than the amorphous securing of a "successful future" or getting into a "good" college. Here, they need to find reliable water and cook a meal that will fuel their minds and bodies as they hump their packs over rigorous terrain.
Stay tuned for Part Three, the conclusion of the series, coming soon!
Kim is a Wind River Wilderness and Wilderness First Responder graduate who works as the NOLS Writer and PR Specialist. She enjoys vegetarian cooking, warm yoga, and drinking lots of coffee!