By Jason BreMiller, Pacific Northwest Outdoor Educators Course '03
BreMiller lives in New Hampshire where he teaches English, coaches hockey, and leads outdoor trips at Phillips Exeter Academy. He recently reactivated his Field Instructor status and hopes to spend more time outdoors watching his students fall in love with wild places.
A shortened version of this piece was published in the Summer, 2014, issue of The Leader, in mailboxes now! This is the first of three parts in this series.
It's a Tuesday night in Peabody Hall, the dorm at Phillips Exeter Academy where I reside and teach, our second day back at school after a 10-day Utah backcountry trip with my students. I can hear the hum of easy banter as they congregate outside my door for our first post-trip reunion, peeling off their shoes—or, I should say their boots—because, as one of them puts it, "we've been wearing our boots every day still!" "Yeah," another confesses, "it makes me feel like we're still there!"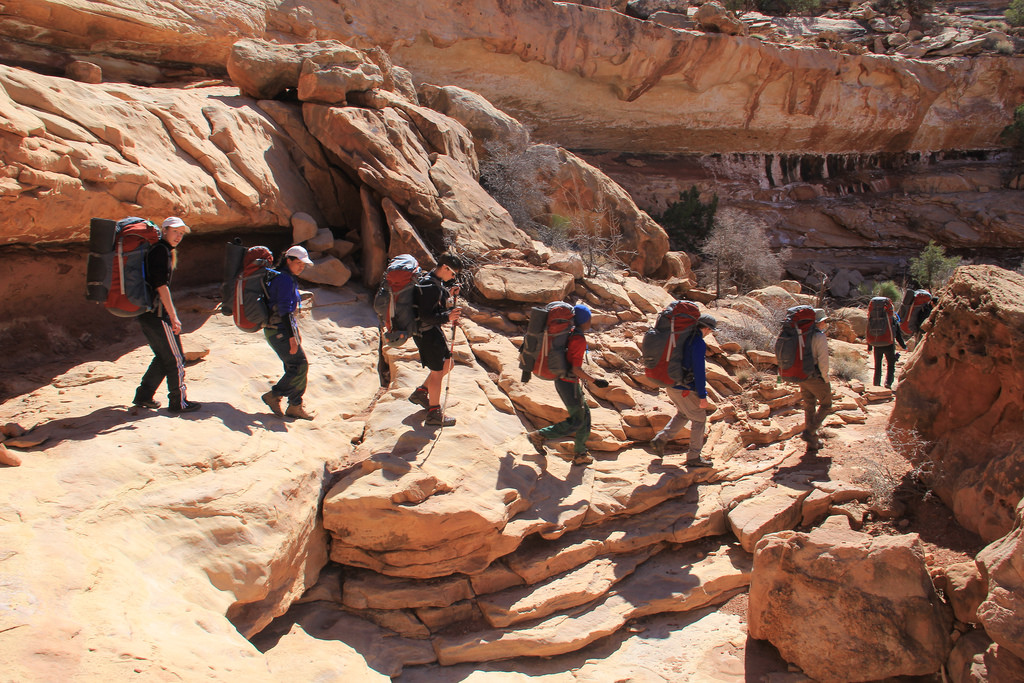 In a corner of the living room they pile their packs high, still stained red with smears of Utah dust, the telltale badges of any backcountry trip to the canyons: the grit that works itself into your boots, your clothes, your dishes, your water, and your teeth, but that catches in your soul in the lazy backwash hours of your return. My wife Molly has found a collection of stick-on moustaches for the kids to don for fun, which they adhere with characteristic abandon. "We love moustaches, too!" I've set up our tv so we can browse the many pictures that have emerged from the trip, and as I click away, the crescendo of background commentary heightens.
"Ah! It's Sage eating 64 marshmallows!"
"Liana, how many times did you get to say Mr. Bre's least favorite word 'yam?'"
"Andrew, your hair looks like a greasesponge!"
"Has anyone seen Quappleton carrying the poop trowel around campus yet?"
It's the language of familiarity, the language of love, as if by invoking their lived stories they cement the reality of what they did out there in the desert together. Of how they moved. That it was real. And that despite their present distance from rimrock and sage, they're still carrying canyonfire in their hearts.
The slideshow proceeds: the slop of a debut meal; a steep slickrock rappel; an awning roof pictograph; a rim to rim post-squall rainbow; the snow-clad Henry Mountains. We pause at a picture of the Milky Way: shades of violet and chalk, starclouds and space. They stare at the picture and grow quiet, their minds going back, their gazes turning wistful and faraway, full of remembrance.
"It's funny," Tom, the 10th grader who took the picture, breaks the reverie, "there are so many things to DO here now," he pauses, his voice teetering, struggling to splice worlds, "but I find that I'm so bored by all this, you know?" His armswing encompasses the entire non-canyon world. The others nod in agreement, and the silence stretches.
*****
So I've been thinking about Tom's words all week, between classes, at night after the kids have checked into the dorm, during the few still moments of the day when the background thrum quiets long enough for me to hear inside. I'm so bored by all of this.
I understand Tom's sentiment because I feel it, too, even after more than a decade of returning from the field, gazing backward over my shoulder every time. But navigating this world and that is endemic to getting outside, and I can't help but wonder how I can help my students span the gap.
Our first evening in the field: the inevitable chaos of camp setup, poop school, and bombproofing. Kai, one half of our husband/wife instructor team, has cooked burritos, and once the "where did I put my headlamp; oh no, I forgot it; oh, there-it-is" dust has settled, her husband Andy leads us in a "one thing to take with you from Exeter and one thing to leave behind" reflection exercise.
"I'd like to be able to be myself here," one student admits, "and not who everyone expects me to be."
"I hope our schedule can be chill," another offers, "without something to get done every second." It is clear they have come seeking a different world than the one they left.
So what world did they leave? Founded in 1781, Exeter is now a school of roughly 1,100 students from, in Exeter-speak, "every quarter" of the world; it's a place whose mission it is to help students explore the confluence of "goodness and knowledge." We employ a pedagogical approach founded by the school in 1931 called Harkness: a system of learning in which the students work together around an oval table, teaching themselves through active conversation and collaboration. They study literature by reading texts and discussing them amongst themselves around the table; they unravel math problems by working together at the board. At Exeter, the teacher is a co-learner who helps reflect to students their own learning, but who almost always holds back, letting silences linger, creating space for the students to find their way.
But Exeter is also complicit in the world of uber-competitive private education, where the strains of academic pressures and college admission often weigh heavily on our students despite our best efforts to defuse them. It's no wonder, then, that they open to the canyons like desert bloom.
And once open, it's remarkable to see what fills that space.
Stay tuned for Part Two and Three coming soon!
Kim is a Wind River Wilderness and Wilderness First Responder graduate who works as the NOLS Writer and PR Specialist. She enjoys vegetarian cooking, warm yoga, and drinking lots of coffee!