NOLS is delighted to receive a $3,500 grant from the Rocky Mountain Power Foundation to provide scholarships to students from Wyoming and Utah. The funds will support underserved youth living in Wyoming and Utah as they embark on the educational adventure of a lifetime this summer.
Each year, NOLS offers $1.5 million in scholarships, enabling students who wouldn't otherwise be able to benefit from the school's unrivaled experiential outdoor skills and leadership training. The Rocky Mountain Power Foundation's contribution to this initiative is of great importance to NOLS' mission.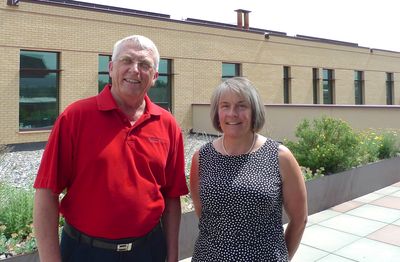 Rocky Mountain Power's Craig Nelson and NOLS' Pip Coe commemorate the grant in front of NOLS' solar panels, another project made possible by Rocky Mountain Power.
"The Rocky Mountain Power Foundation is pleased to support this worthy organization and its efforts to teach students valuable lessons in communication, decision-making and teamwork," said Craig Nelson, Rocky Mountain Power customer and community manager.
"We believe positive, ethical leaders change the world," said Pip Coe, NOLS Alumni and Development Director. "The Rocky Mountain Power Foundation demonstrates the impact of ethical community leaders while also supporting the development of future leaders by helping them take NOLS courses."
Students interested in applying for a NOLS scholarship should submit the standard NOLS scholarship application. Find the form and learn more about scholarships at NOLS at http://www.nols.edu/financialaid/nols_scholarship.shtml.