This article appeared in the Spring 2014 edition of The Leader
A FAILED ATTEMPT ON THE GRAND TETON... On a cold September morning in 1974, my father, Jay Margolis, and five other Fall Semester in the Rockies students began working their way up a boulder field to the Grand Teton's Lower Saddle. Led by instructor Bart Womack, the group reached the infamous Belly Roll on the Owen-Spalding route around 1 p.m. Though not technically difficult, the Belly Roll requires the climber, while on belay, to tiptoe around a bulge with about 2,400 feet of exposure below.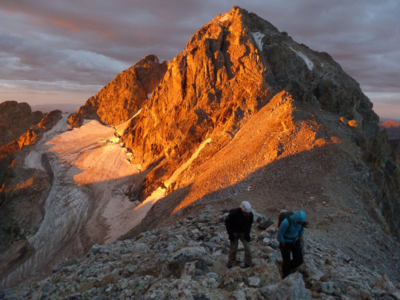 "Everything was going fine until we got to the Belly Roll. I looked down and felt like I was on the wing of an airplane. I got sewing machine leg and couldn't get [my leg to stop shaking]," Jay recalled. "It was 1 p.m. and there were a few clouds accumulating in the sky, so the instructor decided we had to turn around. We got back to camp after dark and then we all packed up and hiked a few miles, making camp at 10 p.m. That was our longest day."
The climb on the Grand was optional for the course, and half a dozen decided to do it.
"The views were spectacular. We were on a very narrow trail and you could see off both sides of the ridge. We roped up for the last 500 feet, I think. There was ice in the chimneys. [The climb didn't feel] exposed until you got to the Belly Roll," Jay said.
"Nobody ever said a negative word to me about not making it up the Grand. Nobody ever criticized me about…keeping them from getting to the top. I thought that was extremely generous of the other [students]."
...BUT A WORTHWHILE EXPERIENCE Like many NOLS students, Jay learned about the school through word-of-mouth. He had some interest in the outdoors from his experience as a summer camp counselor. When he graduated from college, he got a teaching job in Waterville Valley, N.H., a ski town.
"I had a friend … who used to take me with him on his adventures— rock climbing, whitewater canoeing, and cross-country skiing. [That] got me interested in the outdoors. [My friend] knew about NOLS and recommended it to me."
"I didn't know a semester was offered; I thought it would be a 30-day course. When I heard they had a semester, I was excited at the chance to be on the first semester course. It was great being out there and it was little bit of a shock to come back."
Jay describes his semester as, "one of the best times of my life." Fifteen students participated in an array of sections including backpacking and rock climbing in the Winds; backpacking in the Tetons and an attempt on the Grand Teton; backpacking, canoeing, and fishing in Yellowstone National Park; caving at Natural Trap; horsepacking in the Winds; kayaking across Lake Powell; desert backpacking; and backcountry skiing and winter camping in the Absarokas.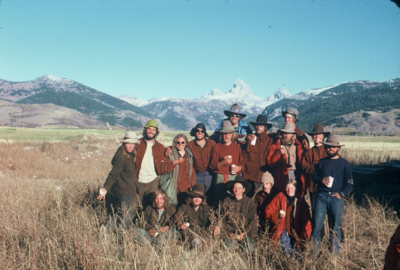 Jay's strongest memories are of the instructors who taught the semester: "[They] were so capable and dedicated to what they were doing … qualified and confident," he reflected. "They loved what they did. I have tremendous respect and love for them as people.
"[Bruce Hampton] gave us wildlife biology lessons out in the field. I remember him wearing a red bandana around his neck, and he had a dog with a matching bandana. One of the first nights we were out, [Bruce led us] down to the lake and trout were biting. We caught browns and rainbows. We put them in a bag with cornmeal and spices, shook it up, and had sautéed trout. That was a highlight. He was a really a good teacher. He had a contagious love for the wilderness."
Skip Shoutis visited with the course.
"He didn't go out on the course with us, but he came and spoke to us," Jay recalled. "He said Paul Petzoldt would say he was an environmentalist because he threw his billy can (an old coffee tin) in the woods where no one could see it."
NOLS founder Paul Petzoldt talked to the course.
"He was a big, white-haired man with a tan cowboy hat. He talked to us about his climbing experience. He looked old to me, but I guess when I was 25 everyone looked old," Jay noted. Petzoldt was 66 at the time.
"Haven Holsapple was our caving instructor. Haven carried a battery operated razor and would shave every morning. He was a real clean cut guy."
The caving section was in Natural Trap. They rappelled from a pickup truck; getting back up wasn't easy.
"I [had] the darnedest time getting out of there because I had never used ascenders," Jay recalled. "You had the tendency that you wanted to pull yourself up the rope but that wouldn't work. It was very slow [and] you were hanging in mid-air for a long time."
Then there was George Hunker.
"We went to Yellowstone and learned to fly fish. I whipped my line back and the hook caught on my eyebrow. [Instructor George Hunker] took it right out. He was really nice; a long-working, popular instructor."
Susan Margolis, Jay's sister, was also a student on the semester.
"Susan was the most skilled rider on the course. The horses were amazing. We went up and down these … really rocky and incredibly steep [canyons]. At night, we would put hobbles on the horses' feet and put cowbells [around their necks]. So we listened to cowbells all night. The things wouldn't stop going," Jay recalled.
The course went boating with Tim Schell on Lake Powell. Jay remembers him as "a remarkable guy," because he had had polio. His lower body was affected but his upper body was very strong.
Instructor Carolyn Gillette carried ice skates with her on the winter course. "She shoveled off part of one of the lakes and went ice skating out there in the backcountry in the Absarokas. That was something—an unforgettable memory."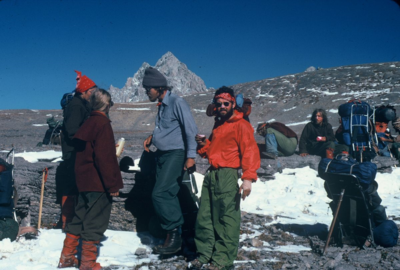 The winter course only flycamped and never made snow shelters, according to Jay. They were out for 15 nights and had temperatures as low as -20 degrees Fahrenheit. Jay reflected that, "on the nights it didn't get [that cold], it would snow a foot and a half." He recalls frequently getting up to shovel out the tent.
"We skied on long and wide wooden Army skis with bear trap cable bindings. [One day], we went up and over a pass late in the afternoon. We had 65-pound packs on. I was a fairly experienced skier, but I got about halfway down and fell down. [The section] was challenging."
The course gear was quite different than it is today. Jay recalled, "The lumberyard was where we used to get all our rations and gear. I just remember all these ladies sitting at sewing machines and making goods to be used for the courses—sleeping bags and parkas."
"I brought an old pair of dress slacks that were 100-percent wool. I wore them every day. Every student had to bring two old wool sweaters to the course and the seamstresses made them into one long wool sweater.
"Everyone was issued a billy can. We would gather our cooking water with it. [Occasionally], we cooked on fires with billy cans."
When asked about what he ate on his course, Jay responded, "I can't really remember anything other than 'mac and cheese.' I'm sure the students at NOLS now are living large compared to what we had."
Stay tuned for Part Two coming soon!
By Jim Margolis, NOLS Field Instructor and Rocky Mountain Program Supervisor