Hello everyone, and welcome to the NOLS Yukon section of the NOLS blog! After a long hiatus, I'm finally going to be regularly updating this section for the remainder of the 2014 season. Here's an overview of our new location, and I'll be posting more shortly about our staff, our branch and, most importantly, the courses that have gone out.
The NOLS Yukon branch has been located for the past 14 years in a warehouse near the Whitehorse airport.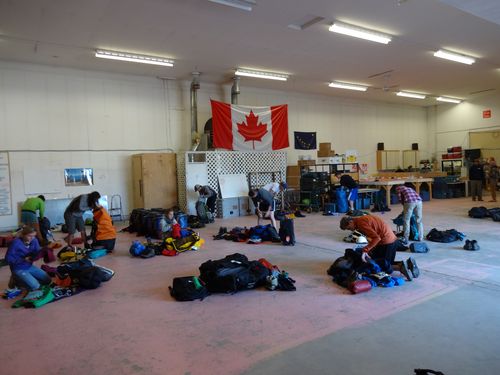 The old NOLS Yukon warehouse - July 2013
This past fall, however, the branch moved to a former retreat center about 30 minutes drive out of town. The new location is right next to the Takhini Hotsprings, and has facilities for the staff to live on-site. It's located in a fantastic area, backing onto a hill that has a view across the entire Takhini valley.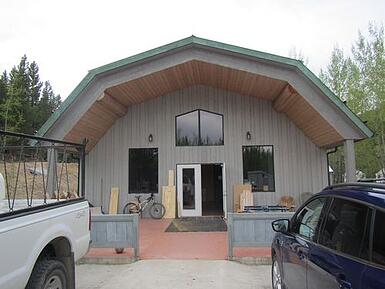 Our new NOLS Yukon branch main building, before we started setting up - May 2014

The view from the hill above the branch - June 2014
Starting in May, the 7 branch staff were all involved with making the branch ready for our first course, which arrived on June 16th. Though we'd never run a course out of this location, and three of our staff this year hadn't worked for NOLS in the past, it went really smoothly, and the course (a hiking and canoeing combo) was able to leave by 6:00pm.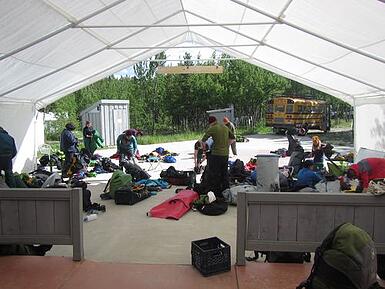 First course issue day - June 2014
Before the course, though, we had a visit from the NOLS Board of Trustees, who held one of their annual meetings up here in the Yukon for the first time in over a decade!