By Aparna Rajagopal-Durbin, NOLS Diversity and Inclusion Manager and Expedition Denali Coordinator
After a year long tour in which the Expedition Denali team inspired over 8,000 young people across the nation with their story, the film documenting their historic journey was screened before an audience of over 300 in Washington D.C. in late June. Titled "An American Ascent," Distill Productions' hourlong film narrated by well-known Yosemite National Park ranger Shelton Johnson told the story of the team's fears and expectations before the climb, their expedition on the mountain, and how they felt when they had to turn back with the summit in sight due to an unprecedented lightning storm. Mountaineering icon Conrad Anker and author John Krakauer make guest appearances.
Watch a trailer for the film:
Expedition Denali Promo from Distill Productions on Vimeo.
Adventure films can be many things. They generally are entertaining, dramatic, adrenaline-inducing, and feature "sick" beats paired with action-packed scenes of the heroes dangling from dangerous precipices. This film stands out. It was many of the things that mountaineering films are. It was funny and it was inspiring. But it was also brutally honest. It was a true story of the team's journey with no spin and no embellishments.
One mother of a young man who is deaf wrote in response to the film: "KiJuan ... has been told many times what he 'can't do' and he has defied the odds every time. I knew this film would grab him and now he is very determined to do something similar."
Another family brought two of their neighbors' children who had previously not been exposed to camping.
"A team member made an interesting point that you can only choose 'what I want to do when I grow up' from the options that you know are available," they wrote. "Now my two friends have a new option they didn't know about before. If nothing else they now know they 'have permission' to use America's parks just like everybody else. Thank you to NOLS for your courses and efforts, they are life-changing."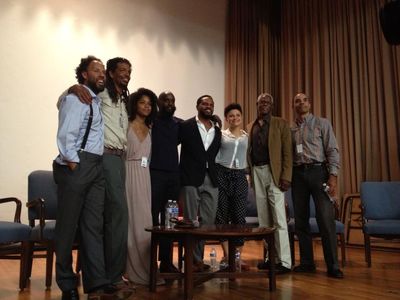 Photo Courtesy of Rosemary Saal. (L to R) Expedition Denali members Scott Briscoe, Robby ReChord, Erica Wynn, Billy Long, Stephen DeBerry, Rosemary Saal, Stephen Shobe, and Ryan Mitchell at the film screening.
The film screening was a capstone event to two years of hard work by many people, but we cannot be complacent. Our expedition to change the face of the outdoors continues. Learn more about Expedition Denali here.
Casey worked as a writer and PR specialist for NOLS.