Lightning is a risk for those who spend time in the outdoors. NOLS wants to provide adventurers with information about how to manage the risks associated with lightning while in camp or out on the trail.
Based on over 15 years of research, the new book "NOLS Lightning" by NOLS Curriculum and Research Manager John Gookin explains lightning science with simple language and illustrations. Lightning weather, physics, and strike distribution are all covered.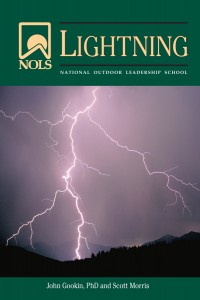 Just released this month, this guide arrives in time for the National Weather Service's National Lightning Safety Awareness Week June 22–28. Summer is the peak season for lightning strikes.
The book equips readers with a basic understanding of science to aid in recognizing events leading up to a lightning strike and take precautions to avoid being struck.
The safest place during a lightning storm is inside, but when traveling in the backcountry absolute safety is not obtainable. A risk management approach to lightning is essential for outdoor activities and expeditions. The techniques outlined in this book will help reduce risk of lightning injuries in the backcountry. Use this guide to develop your awareness and skills and share your lightning knowledge including:
Identify conditions that lead to thunderstorms
Anticipate where lightning tends to strike
Know what actions to take if travel companions are injured by lightning
Safety techniques for tent camping
The best thing outdoors people can do to minimize risks associated with lightning in the backcountry is developing awareness. Learn to stay tuned in to the weather. When ascending to high elevations, establish a turnaround time if thunderstorms are likely. Identify and move to safer terrain well before danger is near. Avoid conductors once lightning gets close. Get into the lightning position if lightning is striking nearby.
Watch a NOLS Mythcrushers video below for more information on lightning!
[x_video_embed type="16:9"][/x_video_embed]
The chapter on case studies with 12 examples of real lightning encounters in the backcountry is an excellent tool to better understand the techniques of recognizing storms, identifying dangerous and safer locations, and responding appropriately when simply stepping inside is not an option.
This book is an invaluable resource for understanding lightning, one of nature's most dangerous natural phenomena, with 144 pages of advice about lightning from experts in the field. Click here to order the NOLS field guide to lightning!
Kim is a Wind River Wilderness and Wilderness First Responder graduate who works as the NOLS Writer and PR Specialist. She enjoys vegetarian cooking, warm yoga, and drinking lots of coffee!