NOLS Southwest Director Lindsay Nohl made her way back to the computer after a weekend of mountain biking just in time to share her favorite aspects of operating in the American Southwest. Read what she had to say about the region below.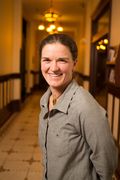 If you had one sentence to describe your staff, you would say:
Our NOLS Southwest staff is a group of caring, smart, and creative individuals who thrive on going above and beyond to create the best experience possible for our students.
How long have you been NOLS Southwest Branch Director?
​Four and a half years​ as branch director. I also spent two years as assistant director (2006–2008) and two years working in three different positions operations assistant, rations manager, and outfitting manager (2003–2005).
How did it all begin for you?
"I knew I wanted to become a NOLS instructor from the first week in the field," recalls Lindsay. "And, at the end of my course, I knew I wanted to give others a similar life-changing experience."
In 2004, Lindsay's dream became a reality. Read more from this previous interview with Lindsay here.
What is your favorite aspect of running courses in your part of the world?
I think that the desert is a magical place and I love being able to send students out to discover the beauty in the places that we operate. It makes me smile to think of a student climbing up a huge granite dome at Cochise Stronghold or walking through patches of sunlight in a deep rocky canyon of the Gila Wilderness.
What unique or particularly appealing aspect of this branch do you think potential students should know about?
Students often tell me that coming back to the NOLS Southwest base "feels like coming back home" after they have been out in the backcountry. We have a beautiful 10-acre campus with an open-air ramada complete with an outdoor "living room" where our students hang out while they are in town. Our small in-town staff all live on-site and really get to know our students throughout their course experience. Our students are part of the NOLS Southwest community the minute they show up for their course.
What would you say most surprises students when they arrive or during their course in that part of the world?
The desert environment and the huge amount of plant and animal diversity they will experience as they travel through the desert "life zones" at different elevations. NOLS Southwest sits at 2,500 feet and is littered with huge Saguaro cactus, mesquite trees, and creosote bushes. Students see coyotes, javelina, and roadrunners on our school property. When they get up into some of the various mountain ranges like the Gila National Forest in New Mexico (7,000–10,000 feet), they will be hiking through spruce-fir, aspen, or ponderosa pine forests and may encounter deer, black bear, bighorn sheep, or wild turkeys. Elevation creates such a stark contrast in the desert.
Anything else you'd like me to include when we brag about your branch, staff, or part of the world?
I know I'm a tad biased, but the Southwest is home to the best sunsets on the planet.
Casey worked as a writer and PR specialist for NOLS.