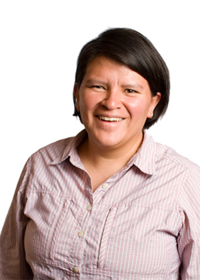 NOLS Mexico Director Carolina Cortés knows anyone could find what they're looking for at NOLS Mexico: "Baja offers something for all tastes. Baja is a place of extremes and contrasts. This part of the world should be a 'must see' on everybody's bucket list, " she recently wrote from the entirely off-the-grid facility in Baja California.
Cortés says, "Nobody leaves NOLS Mexico without saying, 'One day I will come back,'" and she explained why in our recent Q&A:

If you had one sentence to describe your staff, you would say:
NOLS Mexico Staff is creative, experienced, inspiring, and passionate of what we do.
How long have you been NOLS Mexico branch director?
It has been five years but it feels like five months.
How did it all begin for you?
An internship at NOLS Mexico in 2003 opened the door for me. After volunteering for the school one season, I knew this was a good place for me to stick around. I worked in town for one year in Wyoming at NOLS Headquarters and at NOLS Yukon before I did a field instructors course in the Rocky Mountains. After that, I went back to NOLS Mexico to work as operations manager then assistant director and finally director.
During those years of switching positions and traveling from branch to branch, I met lots of people who had a big impact on my life and from whom I learned a ton.
What is your favorite aspect of running courses in your part of the world?
The people and the scenery. Baja is one of the most amazing parts of the world I have ever been to. The interaction between the desert, the sea, flora and fauna makes this place unique, and the combination of all that with the warmth of local people creates an environment you never want to leave.
What unique or particularly appealing aspect of NOLS Mexico do you think potential students should know about?
The opportunities of personal growth and lifelong learning that a contrasting environment like this offers cannot be missed; students come here and leave being transformed into leaders. They often send us messages after their courses about how the experience at NOLS Mexico has helped them to gain confidence and to be active leaders back at home. Moreover, Baja offers the nicest weather, cultural interaction with local fishermen for water courses and rancheros for mountain courses—a once in a lifetime experience! Also, students will find incredible snorkeling and will sail or kayak on waters that Jack Costeau considered the aquarium of the world and hike in stunning mountain ranges.
What would you say most surprises students when they arrive or during their course in that part of the world?
Students are always pleased with cultural interactions with locals, and they wish they had more of it. They are amazed by the natural beauty of the country, and many students want to come back here for personal trips.
Casey worked as a writer and PR specialist for NOLS.