You may remember meeting Mark Jordan, NOLS Australasia director, a few weeks ago. His passion and expertise extend from Australia to New Zealand. Read what he has to say about NOLS New Zealand below.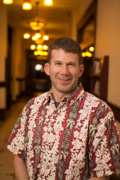 If you had one sentence to describe your staff, you would say:
Like the staff at every NOLS location: driven, enthusiastic, and skilled.
What is your favorite aspect of running courses in your part of the world?
New Zealand has some of the most varied and unique ecosystems in the world. The cultural interactions are fantastic as well.
I firmly believe a NOLS course, at any location, will be a watershed event in a person's life. Australia and New Zealand are great places to experience NOLS as well as a fascinating part of the world to explore.
What unique or particularly appealing aspect of this branch do you think potential students should know about?
New Zealand's forests, called the "bush," contain ancient remnants of Gondwana Land, the prehistoric continent, so the flora here has developed in isolation from other continents. Here you'll find unique birds and plants found nowhere else in the world, like the mischievous Kea, the world's only mountain parrot. Bird life includes tui, bellbird, kaka, parakeets, bush robins, mountain falcons, and morepork owls, whose haunting call can be heard most nights in the bush.
What would you say most surprises students when they arrive or during their course in that part of the world?
In New Zealand students are often surprised how friendly New Zealander's can be. Kiwis will really go out of their way to help strangers.
Casey worked as a writer and PR specialist for NOLS.