On April 10, High Plains Architects will celebrate the construction of three new LEED Platinum Certified buildings, one of which is our very own Wyss Wilderness Medicine Campus!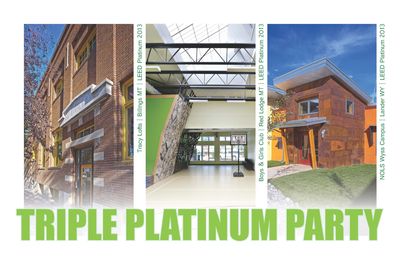 "Every once in awhile, a rare opportunity comes along to work with a client who not only shares your values but challenges you to strive for more ambitious goals," the High Plains website states on a page about the Wyss Campus. "For us, that was the National Outdoor Leadership School. They selected High Plains Architects to closely work with them to spearhead designing the state of the art, high performance Wyss Wilderness Medicine Campus outside of Lander, Wyoming."
This campus was designed to at once have minimal impact upon the beautiful setting and include outdoor and indoor classroom space for wilderness medicine students. So far, 618 students in 26 courses have been educated in (and outside) these remarkable facilities. You can learn more about all the campus has to offer in this video:
Congratulations and thanks, High Plains Architects!
Casey worked as a writer and PR specialist for NOLS.