NOLS Australasia Director Mark Jordan gives some insight into the world NOLS Australia students explore.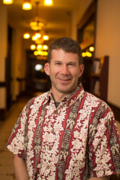 If you had one sentence to describe your staff, you would say:
Like the staff at every NOLS location: driven, enthusiastic, and skilled.
How long have you been NOLS Australasia Director?
Two years
What is your background with NOLS? Or how did it all begin for you?
I did a Waddington Range Expedition course in 1992 with NOLS Pacific Northwest, and a Rocky Mountain Instructors Course in 1993.
What is your favorite aspect of running courses in your part of the world?
Australia has some of the most varied and unique ecosystems in the world. The cultural interactions are fantastic as well.
What unique or particularly appealing aspect of Australia do you think potential students should know about?
The Kimberley region, where NOLS Australia operates courses, contains some of the world's most remote wilderness. The area covers over 423,000 square kilometers (larger than the state of California) and has a population of less than 40,000 people. The areas where NOLS groups travel are true backcountry.
What would you say most surprises students when they arrive or during their course in that part of the world?
In Australia we have only two seasons: wet and dry. This is a unique change for persons coming from more northern latitude climates.
Anything else you'd like to add?
I firmly believe a NOLS course, at any location, will be a watershed event in a person's life. Australia is a great place to experience NOLS as well as a fascinating part of the world to explore.
Casey worked as a writer and PR specialist for NOLS.