2014 marks the Fiftieth Anniversary of the Wilderness Act. This act, signed in 1964, created a system of designating and protecting certain areas as Wilderness (with the capital "W" that comes from Congressional designation). A Wilderness area is an area of land that is sheltered from development and conserved in its natural form for future generations to enjoy.
NOLS has classrooms in Wilderness areas at each of its domestic locations. To bring awareness to these specific spots, as well as the golden anniversary of the Act, the Environmental Sustainability & Stewardship department is hosting a Wilderness 50th Photo Contest at this year's Faculty Summit. We are encouraging NOLS staff and instructors to submit their best photos taken in a Wilderness area.
Stay tuned for more contest details and to see the winning photo in May!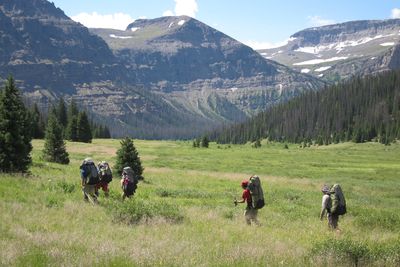 A NOLS classroom in the Absaroka-Beartooth Wilderness
Photo: NOLS Archive