Curious about the Pacific Northwest? Chris Agnew, NOLS Pacific Northwest director, has a great deal of insight to offer. Read our recent Q&A session with him to learn more about the region and NOLS courses there.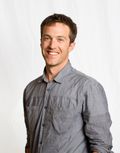 If you had one sentence to describe your staff, you would say:
Our staff are smart, multi-talented, and passionately focused on creating positive and challenging learning experiences for our students in wild and remote places.
How long have you been Branch Director at NOLS Pacific Northwest?
Three and a half years—it correlates almost perfectly with the age of my oldest child!
What is your background with NOLS? Or how did it all begin for you?
As I was growing up, my father would always mention this organization in Wyoming suggesting I should take a course with them at some point. In college I was considering different study abroad opportunities and considered an international semester with NOLS as well. Having grown up backpacking and climbing with my family in the western U.S., I was attracted to a NOLS course that would take me far from my experience and have a strong cultural emphasis.
I ultimately chose a Semester in Kenya. The extended time in the wilderness, authentic leadership opportunities, and immersive cultural experiences I gained on my course were life changing. It gave me and two friends I made on the course the confidence and skills to travel across Kenya, Tanzania, and Uganda following our semester. It also lit a spark for me in the field of education.
Three years later, I finished undergraduate and took my Instructor Course.
What is your favorite aspect of running courses in the Pacific Northwest?
Courses in the Pacific Northwest are unique in so many ways: The proximity of high, rugged alpine to ocean. Large, urban areas being so close to wild, remote, and rarely visited wilderness. Challenging weather, engaging terrain, countless glaciers, and deep lush vegetation. The Pacific Northwest is special.
The powerful ocean, steep mountains, and challenging weather can be intimidating to students at first. Through time in these wild places and excellent coaching by our faculty, by the end of a course our students return feeling at home and comfortable in this formidable landscape.
Where else would you want to be?
What would you say most surprises students when they arrive or during their course in that part of the world?
Access to our campus and our stunning classrooms is unparalleled. With our campus only a little over one hour from Sea-Tac airport and only having to travel as little as 90 minutes from our campus before they start hiking, we can maximize learning and time in the field rather than getting from here to there.
Casey worked as a writer and PR specialist for NOLS.