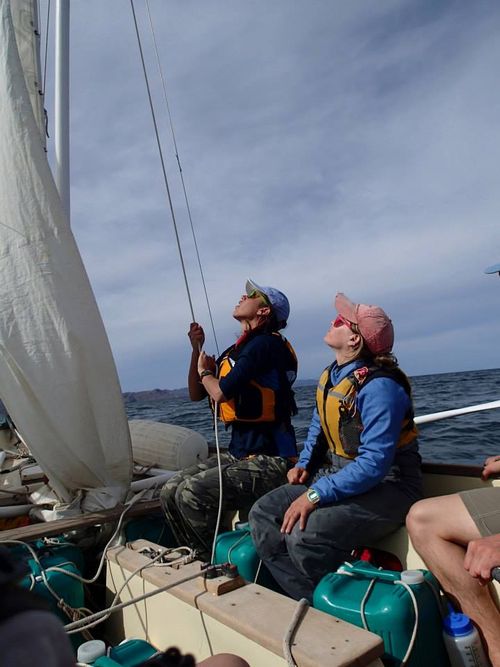 (NOLS Intern, Rahel Manna, learning how to sail from NOLS Instructor, Rachel Silverstein, in Baja California Sur, Mexico.)
Aristotle was once quoted as saying, "Pleasure in the job puts perfection in the work". I couldn't agree more. Everyday I have been enthusiastically working hard for the National Outdoor Leadership School for that exact reason.
Hi! My name is Rahel and I am the new PR & Marketing Intern at NOLS Headquarters. When I initially walked into the NOLS Headquarters building I was sweaty-palm nervous. Every corner of every floor of "Headquarters" bloomed with cool office space that directly reflected the creative energy of the NOLS culture I'd heard so much about.
I knew that NOLS Headquarters was going to be an amazing Energy Star certified building, having previously read about the rooftop garden and attention to detail with the architectural process, but nothing prepared me for the endless amounts of sweet outdoor recreation paraphernalia that I found inside, or the Tibetan prayer flags, or the huge amount of plants and the smiling faces everywhere. One day I even stumbled upon a newly erected teepee on the second floor, "that bad boy is to be used for power naps" as one of my coworkers hilariously put it. Yeah, Headquarters is fun.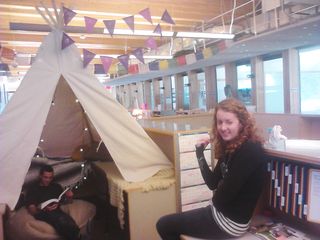 (Charlie reading in our in-office TeePee at NOLS Headquarters)
As my supervisor Jeanne O'Brien gave me a welcoming tour to introduce me to everyone, I quickly realized that I was one lucky son of a gun. The idea of being the "new kid" in any professional work environment is usually daunting and nerve racking, especially if that professional work environment is full of accomplished and devoted individuals working for one of the top nonprofits in the nation. Thankfully, it didn't take long before I realized everyone I would be working with was humble and helpful and friendly above all.
Needless to say, I was beyond ecstatic when I learned that my NOLS internship would entail much more than sitting in front of a computer typing my heart out. While working at NOLS I quickly learned that I have "in-office" work and I have "out-of-office" work, two totally different things.
Ill start with some of the rad "out-of-office" work I've been able to experience with NOLS since starting my internship two months ago. From the time I was told that I was chosen as the new Marketing & PR intern, I was encouraged by O'Brien to take a NOLS course for a more comprehensive understanding of the NOLS culture and mission. After going through the NOLS course enrollment process, I hopped on a plane and headed out to NOLS Mexico to start my new NOLS course: Baja Coastal Sailing. Rough, I know.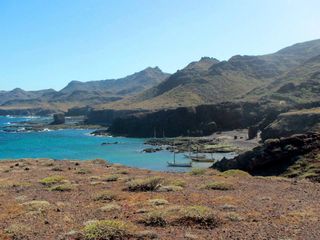 (Our NOLS Drascombe Sailboats anchored in the Sea of Cortes)
I spent the first month of my internship on this NOLS course being trained in sail theory and application, leadership development, and environmental studies by four incredible NOLS instructors. As part of a group of 11 students, I sailed 90 miles down the Sea of Cortes in Baja California Sur, Mexico. I experienced the most liberating and educational three weeks of my life on those sailboats and secluded beaches, and it has helped me in my position as an intern immensely. Nature demands responsibility. Most internship supervisors are not concerned with encouraging their trainees to go on an amazing educational backcountry adventure for three weeks to better train themselves, but most internship supervisors aren't as personable and intelligent as O'Brien.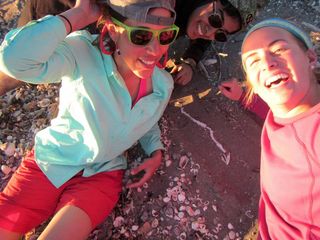 (Check out that sweet Eel vertaebrae)
Two days after my course ended in sunny and tropical Mexico, I was really stoked to walk through the front doors of NOLS Headquarters and start the second month of my internship in sunny and snowy Lander. Within the first week of working in the office, I was given an exciting "out-of-office" assignment to report on the International Pedigree Stage Stop Sled Dog Race that runs annually through beautiful South Pass in the Wind River Range. I acted as a photographer at the event and interviewed some of the mushers, but more importantly I spent the first half of my work shift outdoors under the beautiful Wyoming sun learning about dog sledding and having a blast in the snow.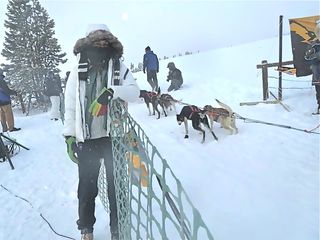 (Rahel at the International Pedigree Dog Sled Race)
Another fun "out-of-office" opportunity involved me shadowing NOLS instructors at NOLS Rocky Mountain and learning first-hand about the instructors' role in gear issuing and food rationing with newly arrived students pre-course—valuable knowledge for any person interested in becoming an instructor one day. NOLS students facing a semester course ask a lot of really great questions, so it was awesome to witness knowledgeable instructors answer all of their questions and help students figure out how to get their gear on and off properly. We also focused on other important pre-course preparation activities like helping students learn to weigh and bag their expedition rations for the first week of their course. Being able to shadow and train under NOLS instructors while they are with their students was super valuable in helping me develop my knowledge base as an aspiring NOLS instructor.
My in-office work is equally as awesome because I am learning tons of professional knowledge about marketing and PR, and I work with ridiculously thoughtful and fun staff. Since arriving I have learned how to professionally write and send out press releases thanks to the training I received from coworkers like Mike Casella and Casey Adams. I've also been able to publish fun blog pieces on the NOLS Blog, the most recent of which covers a former NOLS instructor turned Olympian. Throughout my internship I've been able to sit in on important conference calls during regular team meetings where we work on new projects and build on innovative team ideas from the ground up. It is thrilling to be able to be part of a winning team like the NOLS Marketing department and learn the ropes first-hand. The marketing skills I am gaining are invaluable, and my in-office training is exactly the type of professional knowledge I was hoping to attain during my internship.
In two weeks, the other interns and I are looking forward to a day full skiing provided by NOLS at White Pine Ski resort as part of a "Wellness Day" that all NOLS staff partake in. A few short weeks after that we will have a second "Wellness Day," offering free transportation to a discounted day at the world's largest mineral hot springs located in Thermopolis, Wyoming. Not too shabby aye?
My NOLS internship never feels like a desk job, mostly because my supervisor has always encouraged me to go out and partake in outdoor recreation on my lunch breaks and weekends, or even take the day off if the weather is especially nice and workload isn't high. As I am typing this very blog I have been informed that NOLS Headquarters will shut down an hour early today so we can all "get out the skis and snowboards and have a fun weekend playing in the snow!" Yeah. My job really sucks. Gotta' go play in the snow now! See ya!