We got a quick Q&A session in with Janeen Hutchins, NOLS Alaska Director, during a busy Presidents Day weekend.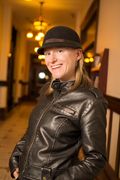 If you had one sentence to describe your staff, you would say:
Our staff are dedicated, passionate, fun and a tight knit group; we work hard and play hard!
How long have you been Director at NOLS Alaska?
I have had the honor to serve NOLS Alaska students and staff since April 2012.
What is your background with NOLS? Or how did it all begin for you?
When I was a junior in college I saw a presentation on NOLS and I instantly knew it was the type of adventure and education I was looking for. That summer I embarked on a Wind River Mountaineering course and I was hooked. It was a life-changing experience and influences everything I do, even today.
My course gave me the skills and resume builder I needed to start working at a teen adventure program. A few years later I was back at NOLS for my instructor course.
Since 2001 I have been lucky enough to be a part of others' life-changing experiences at NOLS both as an instructor and while supporting courses from in-town.
After serving the school at NOLS Rocky Mountain, NOLS Southwest, NOLS Professional Training and in human resources, I landed my dream job at NOLS Alaska.
What is your favorite aspect of running courses in your part of the world?
Alaska is majestic. Whether sea kayaking amongst calving glaciers or climbing snow covered peaks, around every corner there is a breathtaking view and you feel as if you were the first person to step foot in the area. The mountains are huge and the sense of adventure is unparalleled.
What unique or particularly appealing aspect of Alaska do you think potential students should know about?
The "wow factor." I can't say it enough that Alaska is impressive. It really is! They say everything in Alaska is bigger and it's true. The mountains, the glaciers, the forests, the tundra, everywhere you go you are surrounded by immense beauty. Then add doing something rewarding like crossing a glacier or the thrill of having your groceries delivered by a bush plane, it's a true adventure!
What would you say most surprises students when they arrive or during their course in that part of the world?
The midnight sun. In the summer, the sun sets after midnight and rises well before the early bird. The days seem endless and there is no need for a headlamp—it's awesome!
Explore Alaska futher by finding the perfect course here.
Casey worked as a writer and PR specialist for NOLS.