Holly Brooks (WFA '02 and WFR '04) completed her second race in the Olympics today, and everyone at NOLS would like to congratulate her on all she has accomplished as an athlete. In her second Olympics, the Alaskan placed 35th in the women's 10k classic today after taking 47th in the skiathlon Saturday.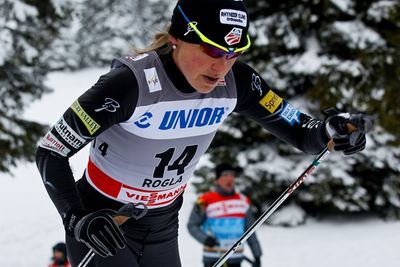 Brooks in action during the FIS Cross Country World Cup Women's 10km Mass Start on December 17, 2011 in Rogla, Slovenia. (Photo by Stanko Gruden/Agence Zoom/Getty Images)
Skiing is not just a race for Holly. In her free time, she admits, she likes to ski—ski tour, crust ski and backcountry ski. According to her biography on the U.S. Ski Team website, she has become a poster child for active, healthy lifestyles in her new home of Alaska.
"Luckily I live in a place where the outdoors are extremely accessible, and I love living in a community where my friends and peers are as active and adventurous as I am," she said.
NOLS is proud to have played a role in the life of someone making such a difference while following her dreams. Congratulations, Holly!
Casey worked as a writer and PR specialist for NOLS.