The eastern half of the Wind River range, as well as the Absaroka range in Wyoming, both lie within the boundaries of the Shoshone National Forest, the first national forest in our country. Originally created as a timber reserve for Yellowstone National Park in 1891, the Shoshone has maintained its wildness: over half the land is designated Wilderness. Among this land lie thousands of miles of hiking trails that bring adventurers around lakes and through mountains. The endless vistas, opportunities for solitude, and abundant wildlife attract tourists, locals, and NOLS courses to come and explore.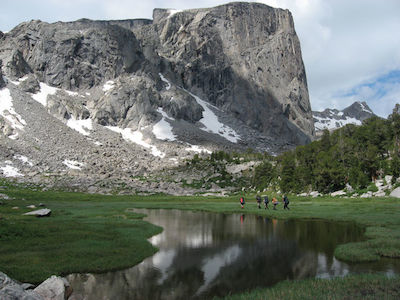 Photo: NOLS Archives
Early in the new year, the Shoshone National Forest released its newly revised Land Management Plan. Last revised in 1986, the new plan highlights important components that reflect the demands of our ever-changing world. Topics include reducing recreation impacts on the forest, protecting unidentified wilderness from road construction, and expanding education and outreach to visitors.
The plan revision process for the Shoshone has been ongoing since 2005, and NOLS has been an active participant in the process at each stage. Courses backpack, climb, and mountaineer while traveling through the Shoshone and surrounding wilderness areas each year. One noteworthy component of the new plan for outfitters was the emphasis on mitigation of recreation impact on the Forest. Leave No Trace principles of minimum impact camping become second nature for students on each course. While exploring the backcountry, they learn about the importance of conserving the wilderness in which they are travelling.
In addition to the reduction of recreation impact on the Forest, the plan institutes several other management changes. Grizzly bear monitoring and protection will increase, and more bear boxes will be installed. Mountain biking will be available in the Dunoir, which will no doubt excite cyclists. The total acreage of land available for oil and gas leasing will be reduced, and sections of certain rivers will be examined for eligibility as Wild and Scenic Rivers.
NOLS courses that explore the Shoshone and its surrounding lands find an abiding connection with the wilderness they call home for a short while. Past students had the opportunity to share their opinions on the Shoshone draft plan. Their voices echoed the importance of keeping this Forest pristine and protected through continued conservation efforts, education for visitors, and minimum impact travel.
NOLS expects courses to continue traveling on the Shoshone for years to come. To read another article related to NOLS' relationship with the Shoshone NF, turn to page 6 of this issue of The Leader.