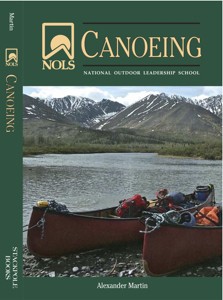 Effortlessly gliding through the crystal clear, smooth water, the canoes' bow pierces the flat surface and sends ripples outward toward the shores. A single-bladed paddle silently dips into the water, propelling the watercraft further onward.
The simple, yet magnificent practicality of a canoe has been around for years. From the earliest cedar-ribbed and birch bark skinned hulls to the wood-and-canvas construction, and on to the modern-day myriad of ABS plastics, foam, and vinyl that are pressed together and known as Royalex. The materials, as well as the people using canoes, have changed drastically over time.
Nowadays canoes can be found splitting through Arctic waters bumping edges with mini icebergs, crossing the vast Pacific Ocean with help of sails and are still found on small lakes and ponds throughout the world. They are vessels for recreation, transportation, and scientific studies, among other things.
The new NOLS book, Canoeing, written by Alexander Martin and published by Stackpole Books, goes in-depth to explore and enhance the overall understanding of every aspect of canoeing—from planning an expedition and describing in detail the parts of a canoe to water science and river maneuvers and travel. Martin, a NOLS instructor since 2008, has a great understanding of a variety of canoe expeditions and was able to use past experiences and knowledge to create this all-encompassing canoeing book.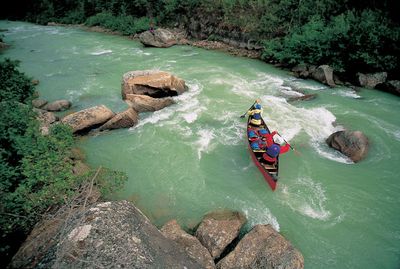 Running a section of whitewater on a river in the Yukon (Photo credit: Pascal Beauvais)
The book is the perfect gift for anyone with a passion for canoeing who would like to learn more regarding expedition canoeing, water travel and techniques, wilderness navigation, as well as advanced skills and other aspects that make up the world of canoeing. This book will serve as a great resource with colorful graphics and pictures to help demonstrate and teach skills and concepts. As everyone settles in for winter in the Northern Hemisphere, Canoeing will be a great companion. While the snow falls and the winds howl, read up on everything canoe related and gain more insight and excitement with each page. Then when winter finally loses its grip on the land and the waterways flow freely, unimpeded by ice, you can set off your own canoe expedition.
For those who wish to gain even more canoe experience and skills, a great avenue is a NOLS course. There are multiple courses with a canoeing component that will allow you to build a foundation and further your canoeing knowledge and experience. NOLS has taught canoe travel for the last four decades. Significant canoe components can be found at multiple NOLS operating locations including the Yukon, the Brazilian Amazon, Australia, American Southwest and Alaska. Any of these courses or locations would be greatly beneficial to anyone wishing to enhance their outdoor skills, leadership development, environmental studies and risk management techniques.