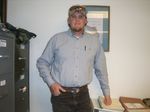 On Saturday, Oct. 12, the National Outdoor Leadership School (NOLS) awarded its 2013 Stewardship Award to Myron Jeffs, outdoor recreation planner for the Bureau of Land Management (BLM) Henry Mountain Field Office in Hanksville, Utah. The NOLS Stewardship Award, presented annually since 1990, recognizes individuals who have demonstrated exceptional stewardship of public lands and the environment.
NOLS chose to honor Jeffs for the exceptional role he plays as liaison to the private and commercial outdoor recreation community. Outdoor enthusiasts of all stripes benefit from Jeffs' balanced and communicative approach to recreation planning. Visitors from around the country and the globe leave the Henry Mountain Field Office with a better understanding of issues facing public lands after interacting with Jeffs, thanks to the high bar he sets for outreach and dialogue.
On NOLS canyoneering courses along the Dirty Devil River, Jeffs visits with every course. He facilitates engaging land management discussions with NOLS students, as well as with other recreation clubs and outdoor education organizations. In that same vein, he regularly facilitates and encourages volunteerism among outdoor recreation groups.
NOLS Rocky Mountain Assistant Director Andy Blair said NOLS students and
instructors alike are enthusiastic about their discussions with Jeffs.
"They are impressed with how open, candid, and objective [Jeffs] has been when they ask about various management topics," said Blair. "These topics range across a wide spectrum including recreational impacts, group size,
grazing, oil and gas and mineral development."
Originally from Castle Dale, Utah, Jeffs has a long history of working on public lands in the west. Prior to his current position, he worked for the Price BLM Field Office, Nevada State Parks and for Utah State Parks.