When I took my first NOLS course in 2005 (Spring Semester in Patagonia), I dreaded the day when it would be my turn to cook. Not only had I never cooked anything beyond microwavable Easy-Mac, but cooking in the back-country on these strange devices called Whisper-Lites…the idea struck fear in my young heart. My tent group and I, having just trudged across mountains and glaciers through wind, rain and snow, finally approached a suitable spot to camp. We all took a load off and sat down on the damp ground.
Cold, wet and teetering toward miserable, their hungry eyes turned toward me, "it's your turn to cook." I froze, paralyzed for a moment. I then grabbed the NOLS Cookery and employed the help of instructor extraordinaire Marco Johnson and made a sausage and veggie pizza that turned out very tasty.
Backcountry cooking need not be a harrowing experience. Claudia Pearson is the editor of 6 editions of the NOLS Cookery and the rations manager at NOLS Rocky Mountain in Lander. The NOLS Cookery shows us hundreds of quick and easy recipes that one can whip up in the field after a long day of mountaineering, kayaking, climbing or any other radical activity that NOLS students partake in on their courses. In order to field test a few new recipes for the next edition of the NOLS Cookery, Claudia led the ladies of the gulch and two NOLS Rocky Mountain interns up Sinks Canyon for a cooking extravaganza. It was fun day and we came back with a few unexpected lessons from the field.
The Gulch Girls field-testing some new recipes
Even though it was a beautiful day, we still faced a few challenges that come with cooking outdoors. We dealt with wind, clogged stoves, and ill-fitting fry-bake lids. These are some typical challenges a NOLS student faces and must learn to deal with gracefully in the field. In making two of our dishes we utilized the 'tower of power' and the 'twiggy fire'. The 'tower of power' is a structure created out of the stove's windscreen that diffuses heat for even cooking. The fry-bake is delicately placed on the structure instead of right on the stove in order to achieve a slow, low heat ideal for large dishes or baked goods. The twiggy fire involves building a small fire out of twigs on top of the fry-bake, so that your baked creations can be cooked evenly on the bottom and top. It was very difficult to keep the twiggy fires burning in the wind, and it's near impossible to bake a dish evenly when your fry-bake's lid does not fit properly.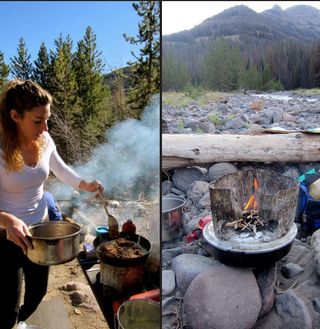 Left: the 'tower of power' in its full glory. Right: A proper twiggy fire, using a windscreen to keep the flame alive, not white-gas.
Some of the techniques we employed that day are not suitable or appropriate to use in the field, or at all. For example, our twiggy fires were so difficult to keep going that our mantra became, 'when in doubt, more white gas' to keep the flame alive. A simple windscreen around the fire would have sufficed. We also had the luxury of cooking on a picnic table and using the campsite's grill as a 'warming oven', comforts that are generally unavailable on a NOLS course. At the end of our session we had created 4 delectable meals including a green bean casserole, a traditional Asian dish with shitake mushrooms and chicken, a coffee streusel cake, and a cheesy broccoli and quinoa dish. Backcountry cooking can be an exciting challenge, and just like most skills it can take a lot of practice as well as trial and error to master. Keep
your eye out for the 7th edition of the NOLS Cookery featuring new field-tested recipes and backcountry cooking tips. And if you're in Lander, stop by the Gourmet Gulch for all your backcountry cooking needs!