NOLS
Director of Risk Management Drew Leemon has been awarded the Charles (Reb)
Gregg Wilderness Risk Management Award at the 20th annual Wilderness
Risk Management Conference (WRMC).
The
Charles (Reb) Gregg Award for exceptional leadership, service, and innovation
in wilderness risk management recognizes extraordinary contributions to the
outdoor education community, to adventure and service organizations, and to
programs and businesses that utilize wild places for their activities. Recipients
of the Reb Gregg award have contributed significantly to the practice of
wilderness risk management by raising standards of practice, providing valued
service to an industry committed to connecting people to wilderness, and
supporting the stewardship of wilderness.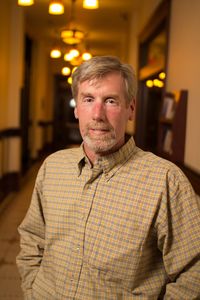 Leemon
has been in wilderness education for 34 years, including as the NOLS risk
management director for 18 years. He has also committed 18 years to the WRMC
steering committee and six years as its chair. During his tenure with NOLS, he
designed and implemented the NOLS accepted field practices, a tool for
communicating NOLS' best field practices, supervises training and continuing education
opportunities for field instructors and led initiatives such as NOLS'
incorporation of satellite phones and personal locator beacons on field
courses.
Leemon's
colleague, NOLS Wilderness Medicine Institute Curriculum Director Tod
Schimelpfenig introduced him at the WRMC award ceremony.
"[Leemon]
has created an atmosphere of openness in risk management and incident response,
a culture where it's acceptable to investigate, report, and learn from our
experience. In a world that can be secretive, suspicious, closed, and defensive
when problems arise, field staff trust that field incidents will be handled
thoughtfully, carefully, thoroughly, and respectfully. NOLS—and Drew—plays a
large role in this process: sets a standard for communicating lessons learned."
Upon
accepting the award, Leemon noted the passion that brings together the WRMC,
himself included:
"We're all here because we know that adventure, experiential
education, and being in nature exposes us to physical and emotional risk, but
that this risk is what allows us and our students to grow and become better
people. This duality of risk means that while we risk loss, we also gain by
taking risks," he said.
Casey worked as a writer and PR specialist for NOLS.