For the past seven
years, NOLS Advisory Councilmember John Whisnant has led the "Tour de
Lander" during the annual board meetings here at NOLS Headquarters. This year
is no different. Tour de Lander VII began Tuesday, and daily stages have
departed from the Pronghorn Inn parking lot to tour the area.
"The weather
cooperated, the bikes cooperated, and the dirt roads mostly cooperated,"
Whisnant noted in an email inviting participants to jump in on later stages.
"On Tuesday, we were stopped after three miles on the Louis Lake dirt road by
ice covering the road."
However, the cyclists found plenty of road to explore for the rest of the week. Wednesday and Thursday saw successful rides for the three regular cyclists on this annual tour.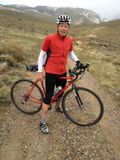 NOLS Advisory and
Board of Trustee members converge upon Lander each year for board meetings that
culminate in a staff celebration on Saturday evening. Perhaps next year the
celebration will include a yellow jersey for the dedicated participants in the
grueling Tour de Lander.
Casey worked as a writer and PR specialist for NOLS.