Since 1991, Tony and Linda Brooks of Teton Village,
Wyo. have invited family and friends around the country to "clean up—anytime,
anywhere" to remember the earth and celebrate the life of their son Charley.
Charley graduated from a NOLS Mountaineering Course
in 1990 and tragically died in a car accident soon thereafter. Since NOLS was
such an important part of Charley's life, the Brooks family started the annual
cleanup as a way to keep their son's memory alive while doing something good
for the planet.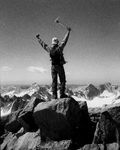 In addition to the cleanup, Tony and Linda also
created a NOLS scholarship fund in memory of Charley, which exposes a new
generation of NOLS grads each year to the wilderness skills and the
conservation ethics that their son forged during his course.
Charley atop Gannet Peak.
This Saturday is the 28th,
so as you begin to make weekend plans, think about what you can do to clean up
in honor of a NOLS alumnus who cared passionately about the earth.
Casey worked as a writer and PR specialist for NOLS.