By Nicholas Nerli, age 14
Growing up in Lander, Wyo., where NOLS Headquarters and NOLS Rocky Mountain are located, experiencing a NOLS course has been on my mind since I learned what NOLS is all about. Just the thought of being in the backcountry during summer vacation was a dream. Furthermore, the thought of going somewhere I had never been was fascinating, so after some serious thought, I applied to take a course with NOLS Northeast.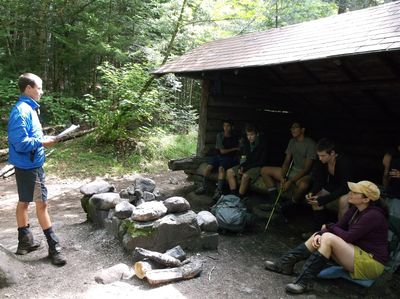 I was so excited when I found out I would be going and, I admit, a bit nervous. For one, I had never flown. Second, I would be living in a foreign environment. I was committing to two weeks with strangers, but I knew I was going to have the time and opportunity of my life.
Learning new skills was very important to me. Throughout my course, I was able to engage in numerous learning activities, be it cooking and baking, first aid, navigation, or, most importantly, leadership. Being a leader was such an important role during my course, and the suggestions and guidance I was given when I was in a leadership role truly benefited me. I will never forget being leader of the day, for it was difficult, but as a team we succeeded that day. That experience will always stay with me and serve me when I face obstacles, big and small.
Climbing my first Adirondack high peak was stunning in a way I can't describe. The feeling I experienced looking over the green, lush landscape, Lake Champlain, and into Vermont was amazing! One morning, we awoke at 3 a.m. to climb Noonmark Mountain and watch the sunrise. The experience and view were breathtaking. Summiting each peak was beautiful in its own unique way. You must gain this experience to understand the pure adrenaline rush.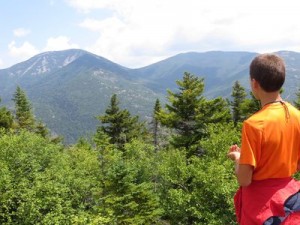 My instructors were knowledgeable, positive, and encouraging toward everyone, creating a healthy team. We grew from each other both emotionally and physically and shared experiences I can't do justice to in writing. Through our friendships, we recognized our strengths and improved on our weaknesses in order to become the best we could be. Without my team, I would not have learned and gained so much.
Nearly three weeks have passed since I returned home. I brought with me memories, friends, and knowledge that I could not have imagined. I have come to miss my NOLS lifestyle and especially upstate New York, which I grew to love during my time there. I hope to once again experience the beauty and uniqueness of the Northeast. I also look forward to future NOLS courses and will use the knowledge I gained to be the most successful person I can be and strive for all I hope to be. NOLS Northeast was an amazing experience.
Casey worked as a writer and PR specialist for NOLS.