While students across the country
are gearing up for a return to standard classrooms with new backpacks and
shoes, the first groups of NOLS students of the new season are embarking on educational adventures of an entirely different
realm—many of them with beefy new backpacks and hiking boots.
Though NOLS semester courses are
not what the phrase "back to school" typically evokes, they are no less
educational and are frequently more eye opening than typical classroom
experiences. NOLS students progress through a rigorous leadership curriculum,
study the environment, and develop a plethora of technical skills for thriving
in the backcountry.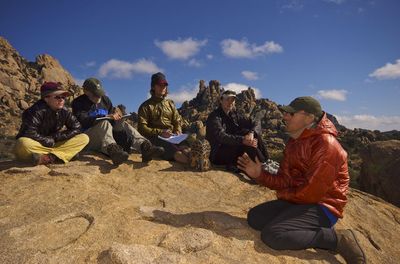 NOLS graduates fresh from the
field are also hitting campuses around the world. You may be able to pick them
out by their binders or bikes decked out with NOLS stickers or by their
tendency to each lunch from a Nalgene bowl in the middle of a class. Ask them
how they're applying their lessons in less superficial but likely very
impactful ways. You may find this classmate and recent NOLS graduate has made a
clever
film about the impacts of urban
sprawl and mining or has made a difference in the lives of strangers halfway around the world. You may find
yourself inspired to take a road less traveled next semester.
Casey worked as a writer and PR specialist for NOLS.