For the sixth year in a row, NOLS has been named one of Outside Magazine's "Best Places to Work." NOLS is one of only five nonprofit organizations selected and, along with Natural Habitat Adventures, Patagonia, Smith Optics, and Smartwool, earns the distinction of being included all six years Outside has published this list. A review of NOLS and other top-performing companies is available at www.outsideonline.com.
"As a world leader in outdoor education, NOLS staff share their passion for wilderness medicine, mountaineering, and more with students age 14 to 70. Here, employees are more likely to wear Chacos than dress shoes, which better prepares them for frequent post-work climbs or hikes," the article states.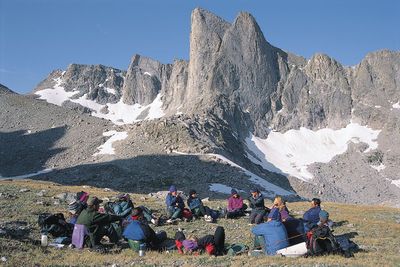 NOLS instructors work in the greatest classrooms in the world, and in-town staff find ways into these same breathtaking places with great frequency with the support of NOLS. Deborah Sussex/NOLS photo
NOLS Executive Director John Gans gives all of the credit to the staff and faculty. "As we approach 50 years of wilderness education it is clear that our staff are the core of our success. Their consistent dedication to our mission is the reason for our success and also for our ongoing placement as a top national employer," he said.
Casey worked as a writer and PR specialist for NOLS.