Starting Thursday morning in southeastern Wyoming is the
Cameco and City of Casper Cowboy Tough Expedition Race. As part of the Rev3
Adventure Race Series, this point-to-point race, starting in Cheyenne and
ending in Casper is also a national qualifying race for the North American
Adventure Racing Series (NAARS). Teams of two or four people will race through
a series of outdoor disciplines including trekking, biking, river travel,
rappelling as well as other challenging activities.
NOLS is a major sponsor of the
event, providing support in multiple ways. As the racers depart from Cheyenne, NOLS
Wilderness Medicine Institute will join the medical crew, bringing the experience of three of WMI's own WEMTs. Jared Steinman,
the NOLS social media coordinator, Travis Welch, WMI's program and retail store
manager, and Greg Flemming, a WMI instructor will all use their training to
provide medical attention as needed for the racer. In addition to being there
to treat race-related illnesses and injuries, NOLS Wilderness Medicine
Institute will provide most of the medical gear.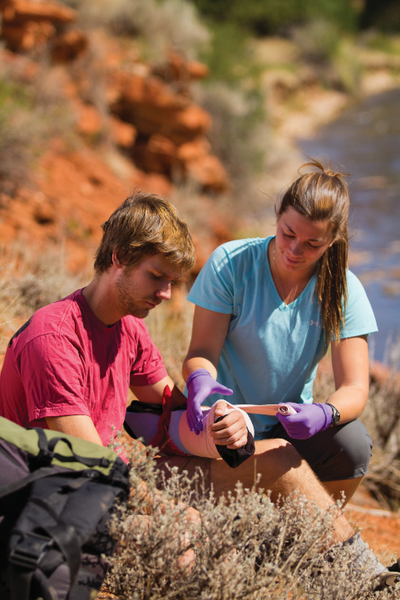 Brad Christensen photo
A section of the adventure race
will be orienteering. NOLS' own Casey Pikla and Kelly Carlin will manage and
oversee this portion as adventure racers go to and from each checkpoint. There
are mandatory checkpoints as well as optional checkpoints for time bonuses. Once
the race is over, Pikla and Carlin will continue to help by breaking down the
orienteering section of the race.
On the other side of the race,
NOLS' own Katie Everson, admission office and Adam Swisher, instructor and
curriculum and publications manager, will participate in Cowboy Tough. Everson,
with a background in marathons and swimming and Adam, with a history of long -distance
adventure races will be strong competitors as Team Wyo.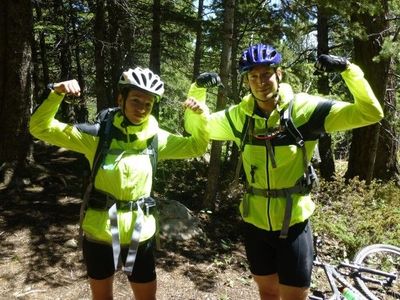 Team Wyo prepares for the race with a long bike ride.
NOLS will also set up an
information booth at the finish line in Casper, Wyo. The booth will host backcountry
cooking demonstrations and knot tying lessons. Anyone in Casper for the race is
encouraged to stop by the NOLS table for information and demonstrations.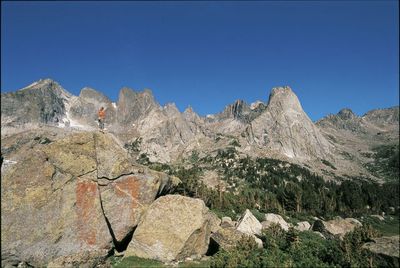 David Anderson photo
"NOLS has been taking people into
Wyoming's backcountry for over 45 years. We're excited to support an
organization and race whose goal is to showcase and raise awareness to
Wyoming's recreational opportunities and wild places," said Steinman.
While Yellowstone and Grand Teton
National Parks garner most of the natural world attention of Wyoming, it's
important to remind visitors that the entire state is full of natural beauty
from the sagebrush plains of the high mountain desert to the craggy peaks of
Wind River Mountain Range and into each lush river valley surrounded and
contrasted by the arid red rock canyon landscape.