Lander, Wyo. — This past weekend
the International Climbers' Festival took place in beautiful City Park in
Lander Wyo. In its 20th year, the festival is the longest-running
climbing festival in the world.
Among all of the big name sponsors
and leaders in the outdoor industry was NOLS, which is headquartered in
Lander. NOLS is always involved in community events, whether it is in Lander or
in any of its locations around the globe. This festival was no different as
many representatives of the NOLS community were present and playing key roles.

Games and events went on throughout the day, as attendees enjoyed the warm summer air of City Park.
Heading the festival was NOLS' own,
Brian Fabel, who is the director of the International Climbers Festival, a NOLS
instructor, and NOLS Rocky Mountain special projects manager. With the
completion of his tenure as Climbers' Festival director, he will be replaced by
another NOLS instructor and staff member; Mandy Pohja.
NOLS also set up an information
booth during the Trade Fair and Park Party to give out information to prospective
students. Many NOLS employees and instructors lent a hand with the various
competitions and events last weekend. Even more involvement came from the NOLS
community who weren't there for work but as avid climbers who are also very
involved in the climbing community. NOLS employees have a keen sense of
adventure and many of them climb in nearby Sinks Canyon, which offers world-class
rock climbing for anyone in the area.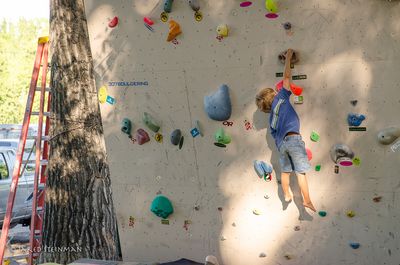 People of all ages participated in the dyno-competition
The International Climber's
Festival was a great success with many competitions and clinics that went on
through the weekend, including the dyno-competition, which captivated the whole
park as climbers, families, and workers alike gathered in a semi-circle around
the bouldering wall. The weather was perfect as live music filled the warm
summer air of City Park. One of the big draws of the festival was the line-up
of presenters. Some big-name climbers descended on Lander for the festival,
these included Tommy Caldwell, Henry Barber, Erica Wynn of NOLS' Expedition
Denali, Cedar Wright, Emily Harrington, and Timmy O'Neil.
As climbers and spectators slowly
diverge from City Park, anticipation is already high for next years' festival,
as once again Lander, Wyo. will be ground zero for a weekend of climbing,
events and festivities.